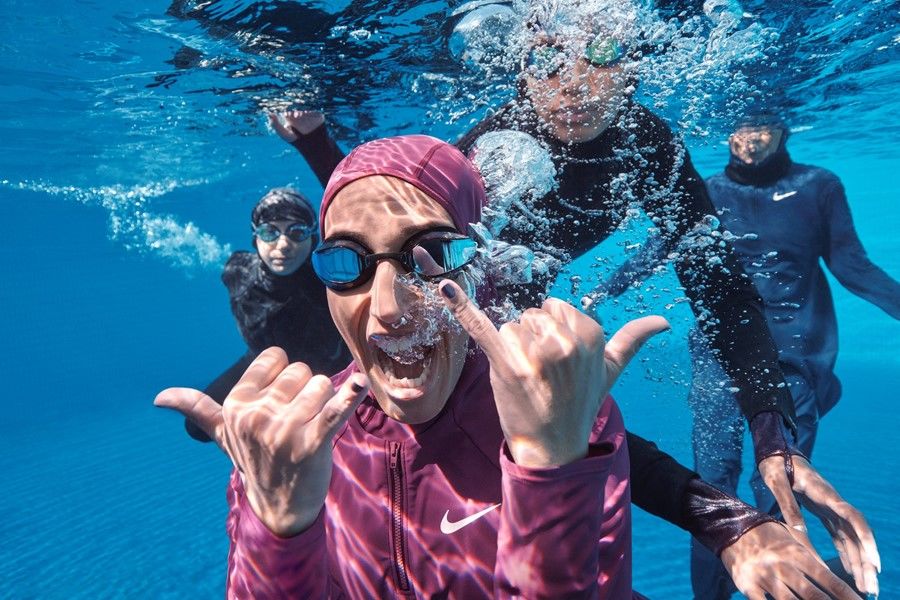 Last week, Nike unveiled its own line of modest swimwear geared to Muslim women called The Victory Suit. The bathing suits are designed to meet the needs of women who need to more fully cover their bodies (and optionally, their hair), and comes in a loosely-draped lightweight fabric that drains water efficiently and doesn't cling to the body.
Athletes Nouf Alosaimi (who holds the record for deepest dive by a Saudi female) and Manal Rostom (who was the first hijabi featured in a Nike Middle East campaign back in 2015) discuss the Victory Suit campaign, and here are some snippets from the interview:
— Manal Rostom: I think it's a huge statement coming from a giant multi-national brand that embraces diversity and inclusivity. It will really change the narrative and allow for more Muslim hijab-wearing athletes to come forward. It says sport is for everybody whether you're covered or not.
— Nouf Alosaimi explains that diving was only recently lifted in Saudi Arabia for women: Yes, we also have a lot of women that don't want to scuba dive because wetsuits are so tight. They only want to come and dive on days that there are not a lot of men around, because they don't want to be exposed to them with a very tight diving suit because it doesn't serve the purpose of the hijab. This suit really serves the purpose of hijab which is loose, it gets dry so fast, it's long, and it covers the whole body. I think a lot more women going to get into diving because of it.
— Manal Rostom: We fight for the rights of hijab-wearing women day in day out. Whether it's for burkini-bans, or discrimination at airports… feel like these are the things we fight for every day and when big multi-national brands come on board and support how we look, I think this will help us change everything. That's why it's super important for the company to celebrate this moment – it's changing lives not just putting a new product out in the market.