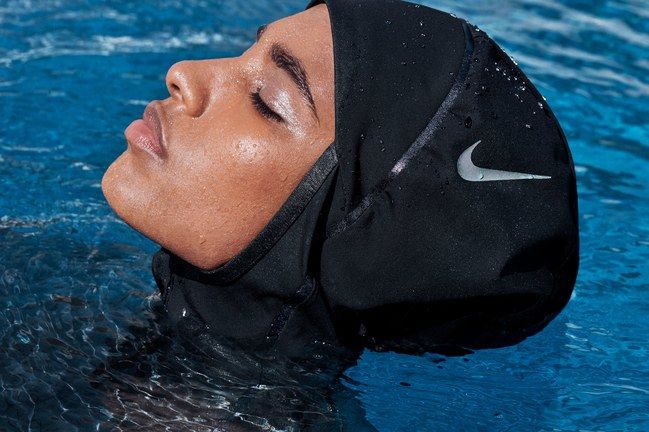 This week Nike unveiled its own line of modest swimwear. The Victory Suit is the top-of-line option and a pricey one — at $600, the suit consists of a loose, two-layered hoodie paired with water-shedding pants made of nylon and spandex. The shalwar kameez is a less expensive option — the outfit comes with a loose tunic ($80), pants ($68) and hijab designed for swimming ($40).
The New Yorker makes the point that the need for modest swimwear is an important one. "Persisting in the face of discrimination, Muslim women in hijabs took medals in tae kwon do, fencing, and weightlifting at the 2016 Olympics, in Rio de Janeiro, and they field amateur and youth teams in boxing, volleyball, figure skating, badminton, and soccer. One sport where hijabis are rarely found, however, is swimming—and, of anything a woman of any faith might choose to wear, it is her swimwear that may suffer the most intense scrutiny. Muslim women who wore tunics and leggings to beaches in France in 2016 were fined and even arrested after more than two dozen municipalities, including Cannes and Nice, enacted bans on burkinis—the same mode of modest, often cumbersome swimming attire that Abdul-Qaadir pulled together for her pool workouts."
Because of modesty concerns and a lack of swimwear options, "a lot of Muslim girls never learn how to swim," Ibtihaj Muhammad, an Olympic medalist in fencing explained to the New Yorker. Ms. Muhammad learned to swim as a girl in her family's swimming pool where she could privately practice in a T-shirt and shorts. "That's the only reason I know how to swim."
Nike first entered the modest athletic gear marketplace two years ago when it introduced the Pro Hijab.