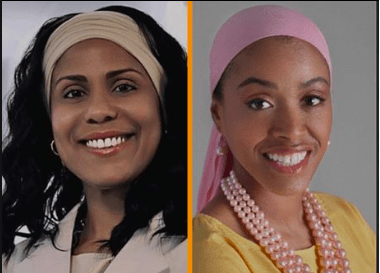 Oklahoma based pediatrician Dr. Noor Jihan Abdul-Haqq (pictured right) serves in leadership at the National Black Muslim Covid Coalition. The Coalition was formed "to address the need for effective planning, preparedness, and organizing in Black Muslim communities during the pandemic." The coalition also serves as an advocacy agency and provides health education.
Dr. Abdul-Haqq says that eating healthy and exercising are important to help fight off infections, and that "we eat too much sugar and processed foods." She says trust is one of the most important things for the community to embrace. "We are now putting ourselves into these places so we can help monitor and if we see something going on we are going to speak out. I know it's very difficult to trust. [But] some of the trust has to be given back to those of us who are physicians of color."
The doctor has had immense experience building trust with her patients. As a medical student, she helped treat patients who had HIV and AIDS in the Dominican Republic, many ostracized from society. Dr. Abdul-Haqq says this experience had a profound impact on her work. "It just changed my whole perspective. I think of giving care no matter what others do around you."
For more on the impact that Corona-19 has had on black American Muslim community, please CLICK.