Writing War Narratives In Times Of Conflict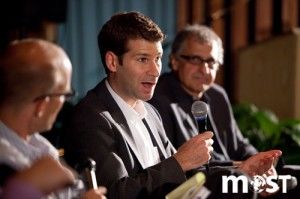 The panel, moderated by John Horn, (Film Critic, LA Times), featured Peter W. Singer, foremost expert on modern warfare from the Brookings Institution, along with Howard Gordon (Executive Producer, 24), Evan Wright (Journalist, WGA screenwriter, HBO Generation Kill), and Paul DeMeo, (Director of Fiction Development and WGA screenwriter), THQ Videogames.
Audience viewed clips of actual Drone strikes in Iraq, as well as footage from 24, Generation Kill and THQ's recent videogame, Homefront. John Horn led an in depth discussion on the technology utilized in both storytelling and war, as well as the complexities of "the other" and blurred lines of conflict, which are increasingly more often, challenging Writers.
Images from the Event