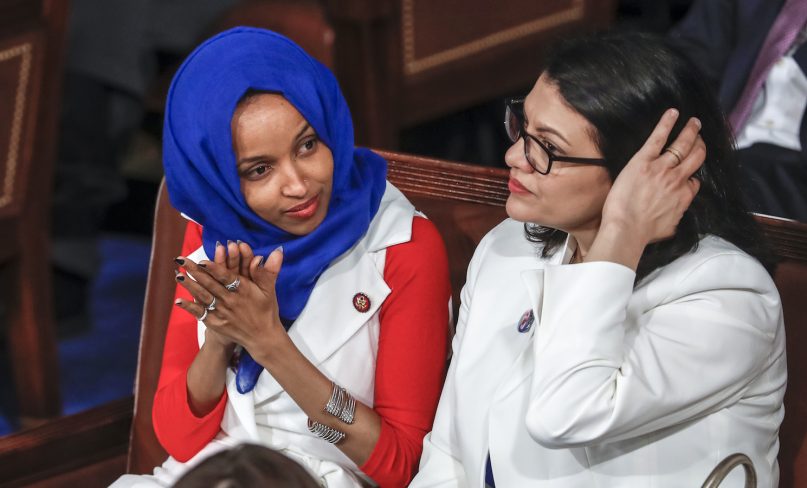 Religion News service interviewed high school and young adult Muslim women on their Muslim female role models, and here are their findings:
— 23-year-old Rabia Khan (recent graduate of Princeton University) says that politicians like Rashida Tlaib and Ilhan Omar (the first female Muslims elected to Congress) are sending a message that the challenges that young Muslims face are not insurmountable. "Muslim women who are outspoken aren't being loud," says Ms. Khan. "They amplify their voices to be heard in a crowd that often doesn't want to listen."
— Marwa Moaz, a 25-year-old from Alexandria, Va., cites the Palestinian thobe that Congresswoman Tlaib wore for her swearing-in plus Congresswoman Omar's outspoken views, as evidence that young women like herself "should have no fear to be who we are unapologetically, and to stand up for what we believe in, even if it is not the popular opinion."
— Shewa Shwani, a 22-year-old student at Syracuse University and president of her campus's chapter of the Food Recovery Network, believes Muslim women can be more effective leaders when they partner with minority groups.
— A number of young Muslim women RNS spoke with also named Amina Wadud, a feminist scholar of the Quran, as an inspiration. "(She is a) hero who has empowered us to reclaim our leadership and reclaim the interpretation of our religious texts, reminding us that the majority of religious scholars in Islam have historically been women," says Rana Abdelhamid, the 25-year-old founder of (IM)WISE, an organization committed to teaching self-defense to Muslim women.
— According to Ms. Khan, many younger American Muslims consider social justice advocation to be vital.
— When asked what makes a good Muslim leader, Ms. Shwani described someone who is "up to speed on events, trends," and as "comfortable to address certain sensitive topics in our community."
— According to RNS, these young women have recognized that their struggles can also inform change. "Simply because our stories and our narratives have never been heard before, says Ms. Moaz. "Simply because women in power shatters concepts of patriarchy."