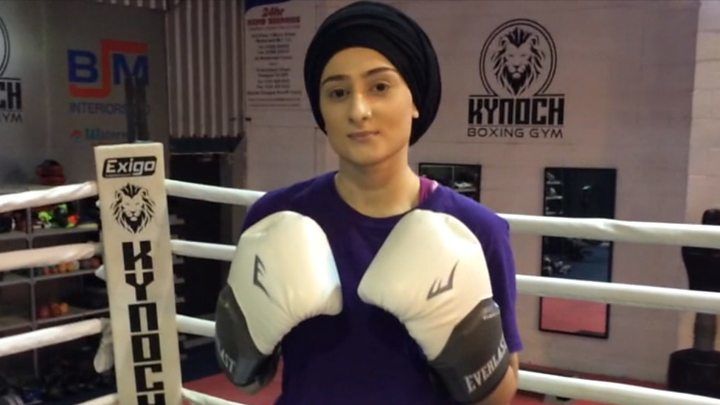 Sannah Hussain is not your average amateur boxer. The 25-year-old Scottish Muslim lives with two debilitating health conditions — Albinism, which affects hair and skin pigment as well as visual impairment, and Myasthenia Gravis, an autoimmune disease which causes muscle weakness and fatigue.
Despite these significant obstacles, the Glasgow-based charity worker is adamant that her health doesn't affect her love for boxing. "I've always been an active person regardless of my vision, regardless of my muscles," she explained to BBC Scotland. "I've always been a go-getter. I've always wanted to be up and about, doing things."
Her interest with boxing came about as part of her job with Human Appeal where she coordinated boxing lessons at the local gym with Muslim women. "We arranged to have the gym closed off to anybody else at that time of day, so the girls could come in, take their hijabs off and feel comfortable with what they're wearing and focus purely on the working out and not feel self-conscious," explained Ms. Hussain. "It's really helped break that barrier that women can't do this, or women of this community can't do this, because they certainly can. Like everything in life, it's just about finding a way around the things that are challenging."
And Ms. Hussein would know a thing or two about not letting anything hold you back. She has been training for Judgement Night, a boxing event in Glasgow which includes a series of matches featuring amateur boxers. "When you overcome that barrier, it makes you realize that there's so much more you can probably do that you didn't realize and you want to discover those things," she proudly states.