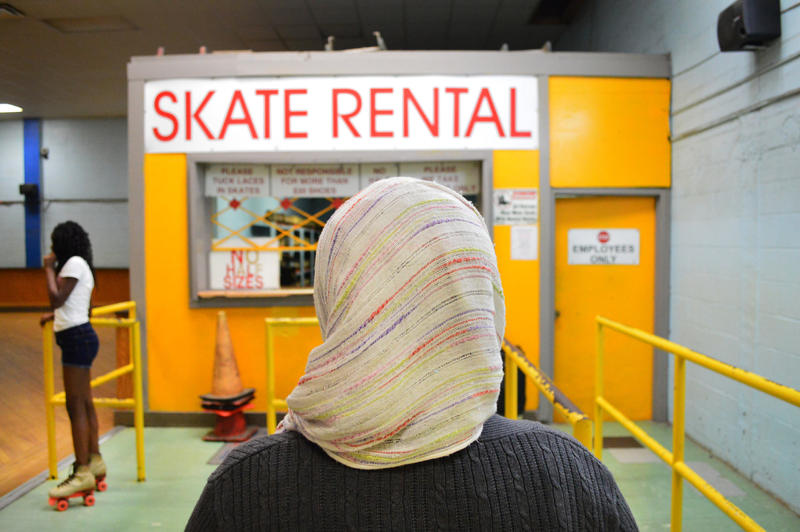 Ever heard of a "halal metropolis"? Well, Razi Jafri is the co-creator of a new exhibit called Halal Metropolis which explores Muslims contributions to art, music, and culture in Detroit and Southeast Michigan. According to Jafri, a "halal metropolis" is "a region in which Muslims can live freely, practice their faith, contribute to society, with all of their creative and entrepreneurial and all kinds of skills that they have."
Jafri says that what makes cities like Detroit a "halal metropolis" is the community support such as "public signaling" — for example, a sign in a local store wishing customers a "Happy Eid." This often also includes cuisines, architecture, and other cultural markers that help give visibility to the Muslim community in the area.
"It's great to be able to have a hub where people can come together and appreciate all of the creative expression that all these Muslims have from different backgrounds," says musician Tazeen Ayub, who is one of the artists featured in the exhibit and is also the founder of the Detroit chapter of the Gathering All Muslim Artists (GAMA) collective.
The exhibit, which opened on June 21st, will travel to different communities across Michigan, including those with less exposure to Muslim-American culture. Jafri hopes that the exhibit will "build bridges" between Muslim and non-Muslim communities. "Our hope is that the people that come and visit these exhibits will learn something new and go away with this idea of learning about who Muslims are, how diverse the community is. Then, in addition to that — one step above that — is the cultural contribution that Muslims have made and are currently making."