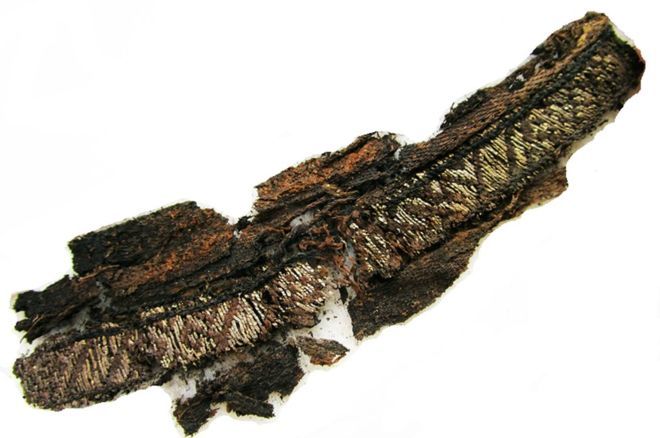 Researchers in Sweden have found Arabic characters woven into burial costumes from Viking boat graves. According to journalist Tharik Hussain, who specializes in Muslim culture and news, the discovery raises new questions about the influence of Islam in Scandinavia.
The discovery came about when textile archaeologist Annika Larsson was examining the remnants of burial costumes from male and female boat and chamber graves which were originally excavated in Sweden in the late 19th and mid-20th centuries. These artifacts were in storage for years, but the archeologist managed to retrieve them recently, and found, to her astonishment, that the patterns woven with silk and silver thread spelled the words "Allah" and "Ali". Ms. Larsson remarks that the minuscule geometric designs, no more than 0.6 inch high, is not like anything she had come across in Scandinavia before. "I couldn't quite make sense of them and then I remembered where I had seen similar designs – in Spain, on Moorish textiles." Ms. Larsson soon realized she was not looking at Viking patterns but rather, ancient Arabic Kufic script.
So far Ms. Larsson says she has found the reference to "Allah" at least in 10 of the nearly 100 pieces. The new findings raises riveting questions about the grave's occupants. "The possibility that some of those in the graves were Muslim cannot be completely ruled out," she remarks. "We know from other Viking tomb excavations that DNA analysis has shown some of the people buried in them originated from places like Persia, where Islam was very dominant. However, it is more likely these findings show that Viking age burial customs were influenced by Islamic ideas such as eternal life in paradise after death."
According to BBC News, Ms. Larsson's discovery is said to be the first time historic items mentioning Ali have ever been unearthed in Scandinavia. It should be noted that the Viking era in Scandinavia lasted between the 8th to the mid-11th century, and that the start of Islam is marked in the year 610, following the first revelation to the Prophet Muhammad.
Editorial note, though this story has been published in major newspapers such as the BBC, Guardian and the New York Times, an associate professor of Islamic Art and Architecture at UT-Austin, Dr. Stephennie Mulder, has recently disputed the historical account on social media — which you can find HERE.