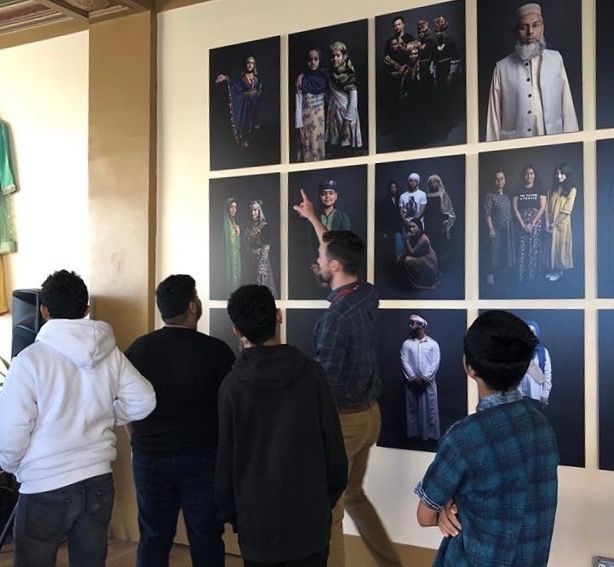 Halal Metropolis is a traveling exhibition which explores Muslim lives in Southeast Michigan as viewed "through historical and archival research, documentation of current conditions, and explorations of future desires." The title is a nod to the growing Muslim population in Detroit, one of the largest and most diverse Muslim populations in the U.S.. The six-part exhibit examines the places where Muslims feel safe to practice their faith and live their lives through art, music, and panel discussions.
Sally Howell, director of the Center of Arab American Studies at the University of Michigan-Dearborn, is one of the architects behind the exhibit. She says she hopes to bring attention to Arab-Americans presence not just in Dearborn, Michgian but throughout the region. "We're looking at this narrative about the city and the growth and change in the city's population, particularly the current development in Detroit, and we're asking the public to reflect on why Muslims and Arab Americans are so absent from this discourse. If you look at the neighborhoods experiencing the most growth, they're immigrant heavy populations, people from the Middle East and Asia… the city isn't really investing here, and we're calling attention to the history of these spaces and how Muslims are investing in them, and also how communities invent themselves in distressed places."
Ms. Howell continues, "With the Halal Metropolis project, I am trying to answer fundamental questions about the Muslim community and how it's transforming the city today – not in isolation, or in opposition to other people, but in conjunction with its non-Muslim neighbors."
The exhibit is in Howell at Cleary University through Dec. 20, before continuing to Dearborn, Ann Arbor, and Mt. Clemens through October 2020.