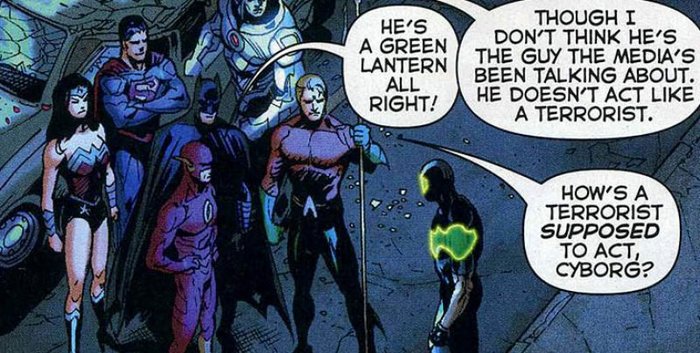 StepFeed presents this listicle of Muslim superhero characters pronouncing "if anyone is in need of superheroes today, it's the people suffering from the backlash of Islamophobia."
1. Ms. Marvel – Kamala Khan
Released in 2014, Ms. Marvel is the first Muslim American hero to star in her own comic. She is described as a sarcastic Pakistani-American teenager with an extreme dedication to serving justice.
2. Kismet: The Man of Fate – The first Muslim Superhero
Cited as the first genuine Muslim superhero, Kismet was an Algerian Muslim who lived in the South of France in the early 1940s when the Nazis took over at which point he re-emerged as a resistance fighter with the power to see the future.
3. Green Lantern – Simon Baz
Simon Baz is a Lebanese-American and the first Muslim member of the Green Lantern Corps, an extraterrestrial police force. He first appeared in the comic in 2012.
4. Sooraya Qadir, codename: Dust
Sooraya Qadir is a superhero in Marvel's X-Men series. First appeared in 2002.
5. Monet St. Croix
Monet St. Croix preceded Sooraya in the X-Men series and was first introduced in 1994 as the first Muslim mutant. She is an Afghani Muslim.
6. The 99
Created by Naif Al-Mutawa, the comic features a team of superheroes with special abilities based on the 99 attributes of Allah in Islam.
7. Bilal Asselah – Nightrunner
Nightrunner is a DC comics superhero who first appeared in 2011. He is an Algerian-French Muslim hero who lives in a Parisian suburb.
8. Kahina Eskandari – Iron Butterfly
First created in 1993 by DC Comics, Kahina Eskandari is a Palestinian Muslim whose parents were murdered when she was young which led her to seek vengeance. She is a field commander of the Shadow Cabinet, and has the power to move and shape metallic objects.
9. Yusuf Abdullah – Buraaq
Created in 2011, Yusuf Abdullah lives in the fictional Nova City. He is also the director of a vast relief organization who uses his powers to fight injustice.
10. Qahera – Cairo's Superhero
Created by 22-year-old art student Deena Mohamed, Qahera is considered a "badass superhero."