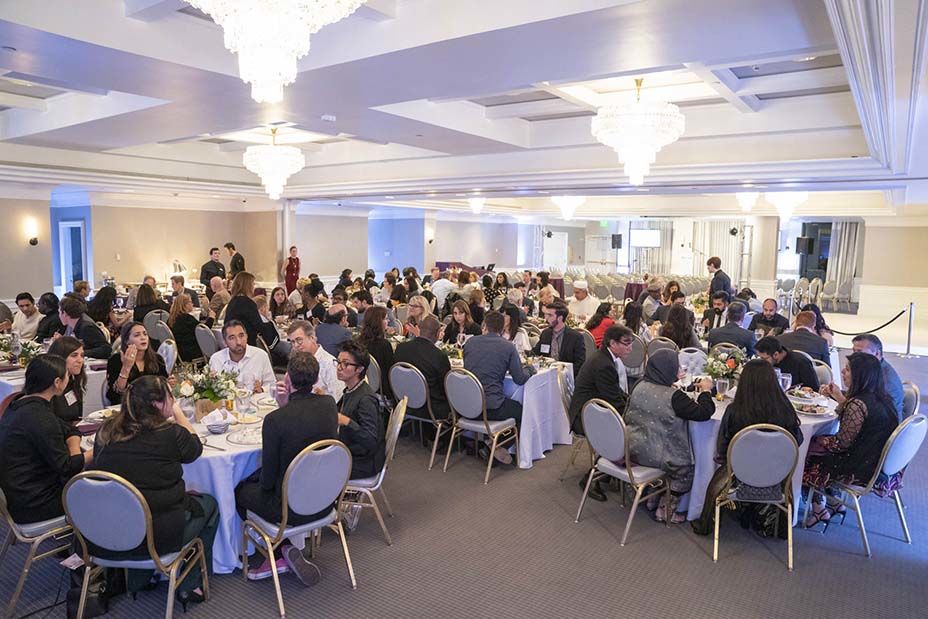 The Hollywood Reporter covered MOST's third annual iftar. Here's what they had to say —
The third annual event was hosted by the Muslims on Screen & Television Resource Center, Unity Productions Foundation and the Writers Guild Foundation.
On Wednesday night the Writers Guild Foundation and Muslims on Screen & Television Resource Center (MOST) welcomed influential film and television creators to the 3rd annual Hollywood Iftar.
The London Hotel in West Hollywood played host to the event, a collaboration between the Writers Guild Foundation, Muslims on Screen & Television Resource Center and Unity Productions Foundation.
An iftar is a sacred sunset meal Muslims use to break the daily fast of Ramadan.
Wednesday's iftar was open to both Muslim and non-Muslim members of Hollywood in the hopes of fostering a better understanding of Islam by those who create film and television. Writers and producers like Greg Daniels (The Office), Joy Gregory (Madame Secretary) and Chip Johannessen (Homeland) mixed and mingled with members of the Islamic community to learn about the nuances of Islamic culture and traditional Muslim practices.
Greg Daniels, showrunner of The Office and Parks and Recreation, says he first experienced the Hollywood Iftar a couple of years ago, after attending a master class with Arab TV writers in Abu Dhabi.
He says he strongly believes in the need for television writers to familiarize themselves with different cultures. "I think it's important for all writers to learn about as much as they can just to have their writing reflect the world accurately," Daniels told The Hollywood Reporter before alluding to the current political climate. "I also think it's important to show solidarity with minority communities, especially now."
Joy Gregory, the co-executive producer of Madame Secretary, consulted with MOST on a few episodes of her show, including a storyline about an iftar at the State Department. She believes events like the Hollywood Iftar both enable her to create well-rounded Muslim characters and widen her own world view.
"[This iftar] is enriching on a personal level too, because you realize how few opportunities there are in our sort of narrowly prescribed lives in this sprawling metropolis to interact with a lot of the cultures in the city, but particularly the Muslim culture," Gregory told THR. "So, I love the spirit of this event, the encouragement to observe the prayer ritual, to ask questions and strike up new conversations. I just think it's exactly the spirit that we need in this country right now."
Muslim comedian Preacher Moss hosted the event and cracked jokes about his own first Ramadan. The pre-dinner festivities included a call to prayer — performed by actor Ben Yousef — before attendees officially broke the day's fast by eating a ceremonial date.
Moss spoke with THR on how the organization has given him a greater awareness of not just Islam but all underrepresented communities he portrays on his shows: "We try to provide resources for Hollywood writers, mainly on television programs, to help them tell stories about Muslims that are beyond the stereotypical stories of terrorists and so forth because Islam is dynamic and diverse and there are so many interesting stories besides that."
After the fast was broken guests were treated to a buffet and encouraged to ask any questions they had about Islam. Ambassador Cynthia Schneider, now co-director of MOST, delivered the evening's closing remarks by referencing the power of film and television to fight the country's growing Islamophobia.