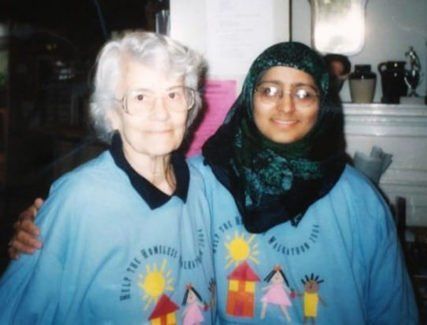 In 2002, educator Afeefa Syeed was looking for a new home for her start-up school for Muslim children. She had started Al Fatih academy with another teacher, Pervin Divleli, in Herndon, Virginia. Both had the same goal, that their school would be a place where one "could be creative and innovative [in] teaching while building an environment in which students could seamlessly be both American and Muslim."
As luck would have it, another small daycare was closing in the neighborhood after 50 years. But the owner, Barbara Harding, a silver haired 80 year-old, said she was retiring and since she lived in the house, her plans were pretty firm to close shop. The educators left a bit disheartened as the house was perfect, a tree-house surrounded by oaks, but understood.
After a night's thought, Mrs. Harding rang the next day and said this to the teachers: "My children grew up in Herndon when water fountains were marked 'whites' and 'Negroes,' and I had to explain why this was wrong. I don't want to see that again in my lifetime. I would like to have you Muslims in my house and have your school here, because what you're teaching and how you're teaching is what all people need to learn."
Mrs. Harding would continue to live upstairs and visit classes daily. She answered questions from the children about how she, as a Christian, prayed, with a simple reply: "Just like you do, with my heart."
Last month, Mrs. Harding died at the age of 97.
"While our school outgrew her beautiful home years ago," Ms. Syeed commented in an op-ed for Religion News Service. "Her warmth is passed on every day to our now nearly 300 students. Hundreds have come through our doors since Mrs. Harding said yes during a time of uncertainty not only for Muslims, but for all of us who were presented with the opportunity to delve deeper into what it means to be America."