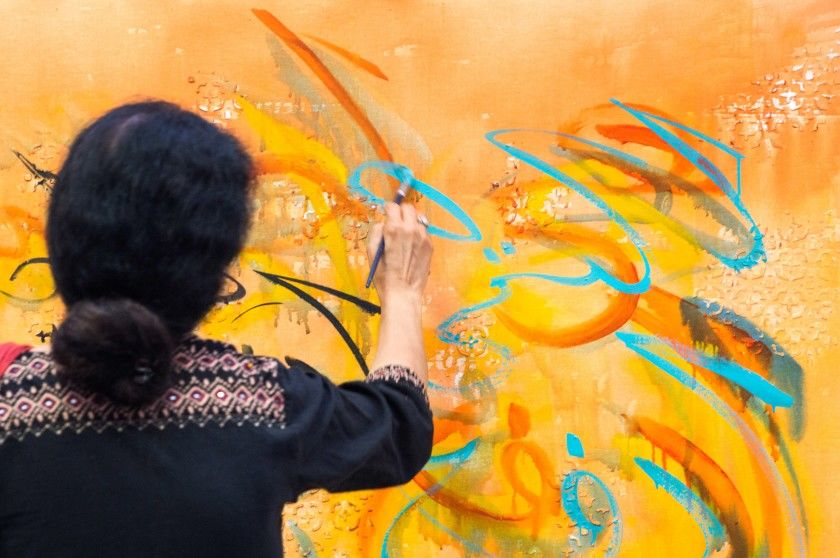 "My work is all about people coming together," proclaims artist Salma Arastu. "That is my dream. … I want to show people what the Quran has taught me about diversity, community, friendship and peace."
Salma Arastu is part of a movement to modernize Islamic calligraphy. After graduating from art school in India, she converted to Islam, having married a man who was Muslim. Together, they moved to Iran and eventually resettled in California. It was in Iran that Ms. Arastu first encountered Islamic calligraphy, stylized writing of verses from the Quran or the sayings of the prophet Muhammad in Arabic script.
Ms. Arastu says that when she was first exposed to calligraphy, she found a kind of freedom in it, and began copying the text, despite not knowing Arabic. "It freed my line… It became more lyrical. In one stroke there is a meaning and it is connecting to God. That line becomes a divine line."
Venetia Porter, curator of the British Museum, says that artists can do wonderful things with calligraphy, whether they are trained for it or not. "Sometimes you can read real words in the art, but sometimes it is not about the word but about the shape of the word. They are rooted in tradition but then they do elaborate and virtuosic things."
Salma Arastu's work is currently displayed in galleries and museums in Washington, D.C.; Houston; St. Louis; and Portland, Ore. She is also curating two shows of Muslim female artists in Northern California: The Word: Visual Interpretations by Local Muslim Women Artists opened recently at the Arc Gallery in San Francisco, and will be followed in March by an exhibition at the Abrams Claghorn Gallery in Albany, Calif.