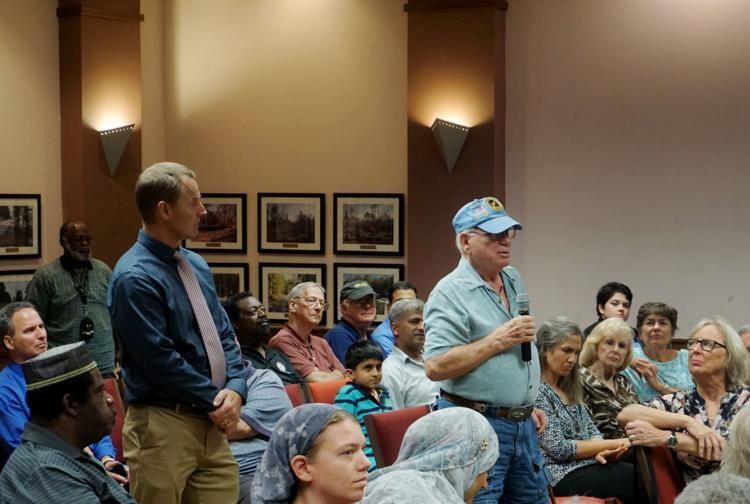 Hardy King is mayor of a small South Carolina town called Irmo, population 11,851. Last June, the Daily Beast reported Mayor King had posted anti-Muslim and anti-immigrant memes on his Facebook page. Shortly after the article ran, Mayor King told a local paper that he didn't know any Muslims in town and had never met one. That led to a phone call from an Irmo resident who told the mayor he was raised Muslim and wanted to talk about his faith. And the mayor listened.
"That probably did more to humble me, to make me think, 'Huh, I could use a whole lot more of these people as friends,'" says Mayor King. "He wasn't yelling and screaming and hollering and calling me a bigot. He was just a young man with a concern. And he voiced it very openly, very peacefully. … It made me think, 'Maybe I need to rethink this attitude.'"
Other Muslims followed suit including Chaudhry Sadiq, president of the Peace and Integration Council of North America, who invited King to visit his mosque in nearby Columbia. And the Mayor did — on Eid al-Fitr, an especially holy holiday celebrating the end of Ramadan. According to The Post and Courier, "King reflected on how a fear of the unknown had informed his world view."
And soon King was coordinating a townhall meeting with Mr. Sadiq on the subject of tackling Muslim stereotypes entitled "Demystifying Islam." More than 100 townspeople attended the event and listened attentively as Mr. Sadiq gave a 45-minute presentation on Islam's history and beliefs (see photo).
King, a devout Southern Baptist, reflected upon what he learned from Mr. Sadiq and the panel. "If half the Christians in this country prayed five times a day, we'd have a lot of stuff solved."