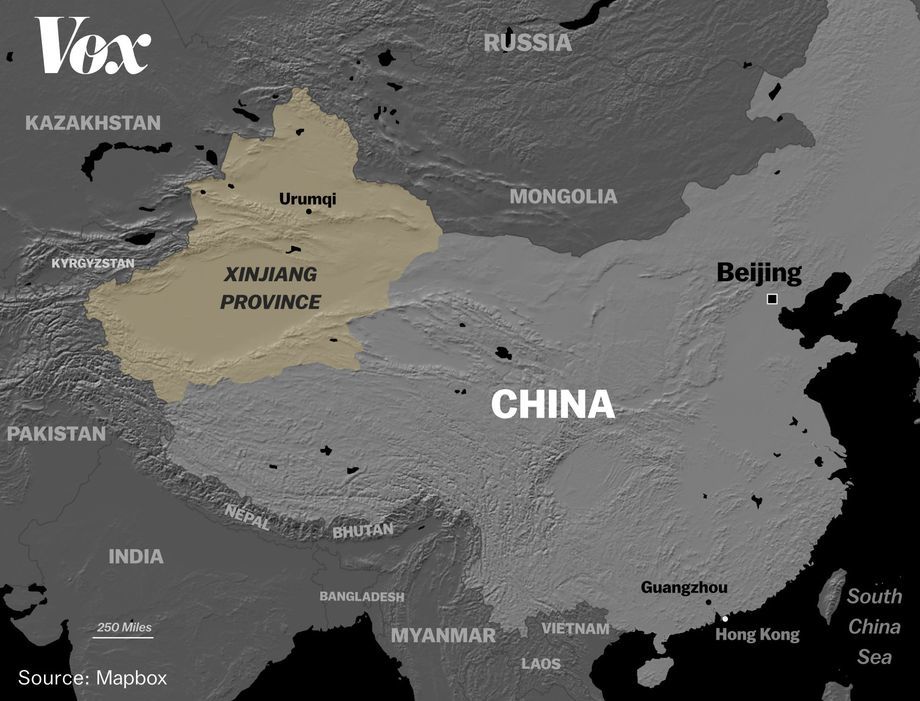 Vox and major newspapers are reporting that a United Nations Human Rights panel has accused the Chinese government of unfairly cracking down on Uighurs, an ethnic Muslim minority in China's western Xinjiang autonomous region, and detaining as many as 1 million in internment camps and "reeducation" programs.
In recent years, the Chinese government's repression of ethnic Uighurs, most of whom are Sunni Muslim, has intensified in what many label as an "anti-extremism initiative." "[I]n the name of combating religious extremism and maintaining social stability," China has turned the Xinjiang region "into something that resembles a massive internment camp that is shrouded in secrecy, a sort of 'no rights zone'," says Gay McDougall, a member of the UN Committee on the Elimination of Racial Discrimination.
Vox further explains below what is going on and why "the UN is confronting Beijing on its brutal policies against, and detainment of, the Uighurs and other Muslim minorities within China's borders."
Who are the Uighurs
The Uighurs are China's minority Muslim group. Xinjiang, where about 10 million Uighurs and some other Muslim minorities live, is an autonomous region in China's northwest that borders Kazakhstan, Kyrgyzstan, and Mongolia. It has been under Chinese control since 1949, when the communist People's Republic of China was established.
Uighurs speak their own language — an Asian Turkic language similar to Uzbek — and most practice a moderate form of Sunni Islam. Some activists, including those who seek independence from China, refer to the region as East Turkestan.
China's "de-extremification" policies against the Uighurs
China's crackdown on the Uighurs is part of a policy of "de-extremification." It's generated extreme policies, from the banning of certain Muslim names for babies to chilling reports of torture and political indoctrination in so-called "reeducation" camps where hundreds of thousands have been detained.
China escalated pressure on Muslim minorities through 2017, slowly chipping away at their rights with the passage of religious regulations and a counterterrorism law, according to the Uyghur Human Rights Project…Some of the government more targeted "de-extremification" restrictions gained coverage in the West, including a ban on certain Muslim names for babies and another on long beards and veils. The government also made it illegal to not watch state television and to not send children to government schools. The government reportedly tried to promote drinking and smoking, because people who didn't drink or smoke — such as devout Muslims — were deemed suspicious.
Detention Camps
"Reeducation camps" — or training camps, as the Chinese have called them — are perhaps the most sinister pillar of this de-extremification policy (according to Vox). Experts estimate as many as 2 million people have disappeared into these camps at some point, with about 1 million currently being held. James Millward, a professor at Georgetown University, says that the Chinese authorities see the camps as "a kind of conversion therapy, and they talk about it that way."
The Chinese government has denied these camps exist.
What's Next
The UN human rights panel harshly criticized China over its detainment of the Uighurs. But China has continued to deny the harshest of the claims.
Some lawmakers in the United States are trying to draw attention to the plight of the Uighurs. Last week, Sen. Marco Rubio (R-FL) wrote an op-ed in the Wall Street Journal calling on the US government to sanction Chen, the strongman leader of Xinjiang, and other officials and businesses complicit in the surveillance of citizens and detentions.
The State Department, including Secretary of State Mike Pompeo, has also criticized China for detaining Uighurs and other minorities based on religion. But so far, there's been little hard action to punish China.