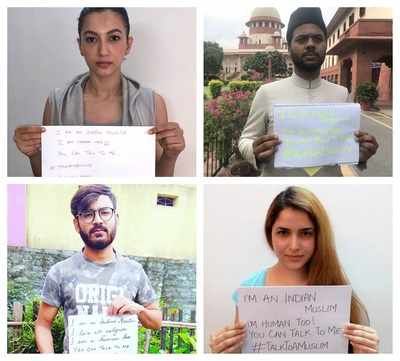 In a grass roots effort to combat Islamophobia, the campaign #TalkToAMuslim started to trend yesterday on Twitter. The hashtag was initiated with the goal to challenge stereotypes and misconceptions about the Muslim community by engaging in a social media dialogue.
Here are some of the tweets:
Bollywood actress Gauahar Khan tweeted: "…by land I am a Hindu, by faith I am a Muslim and by heart n soul INDIAN is my identity."
Rana Safvi tweeted: "I'm an Indian Muslim. I have fun, I enjoy life. I can talk to you on Shakespeare, Ghalib, Meerabai, the Mughals and the First war of Indian independence. Of Muslim contribution to freedom struggle. Come talk to me. #TalkToAMuslim."
Author Nazia Erum tweeted: "If you think Muslims aren't fed up of being the national conversation every night at 9pm bulletins. If you think Muslims don't feel otherized, demonized & marginalized. Then you need to talk. I am an Indian Muslim#TalkToAMuslim."
Times of India reports that the hashtag has reached over 6.6 million users on Twitter.