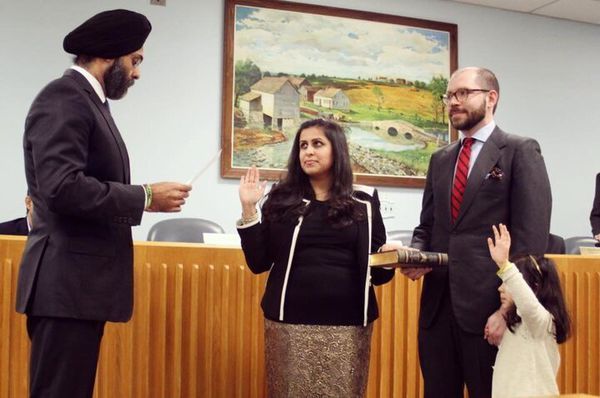 Sadaf Jaffer is said to be the first female South Asian mayor of a New Jersey municipality and the first female Muslim mayor in New Jersey. According to Religionnews.com, she is also believed to be the first female Muslim mayor, female Pakistani-American mayor and first female South Asian-American mayor in the U.S. (Yes, that is a lot of firsts!).
Mayor Jaffer says she always felt drawn to public service. Raised by immigrant parents (her mother hails from Pakistan and her father from Yemen), she grew up in Chicago and as an adult, moved to New Jersey for work. Both her and her husband landed jobs at Princeton University where she taught courses on Islam in South Asia and South Asian American film and literature courses.
In 2012, the couple moved to Montgomery Township which has a large Asian population. Ms. Jaffer soon began attending Township Committee meetings and says it was there that she started to seriously think about running for office. "I wasn't seeing my values represented in politics very much," she comments.
She launched a write-in campaign in 2016, and though she was unsuccessful, tried again the following year on the Democratic ticket and won. In 2019, she was appointed to the position as mayor by her fellow committee members. "I'm so happy to be an example of how our system is very democratic and if you run, you can win," she remarks.
As Mayor, Ms Jaffer has started the Montgomery Mosaic project, a monthly group where residents can come together and talk about various topics — from Islamaphobia and racism to intercultural holiday parties. She says her biggest hope is that township residents feel that their votes matter and see the importance of participating in the electoral process.