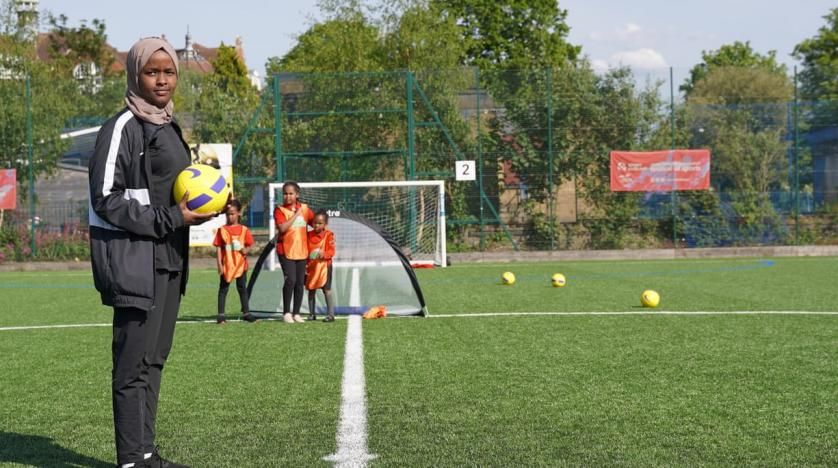 Jawahir Roble is the first female Muslim referee in British football. She is part of a nationwide initiative in the United Kingdom, sponsored by the English Football Association, with the purpose to train 20,000 girls (ages five to 11) on football (known as soccer in America). Launched in 2017, the program hopes to double the girls' participation in the sport by 2020 with the help of talented referees and coaches like Ms. Roble.
Born in Somalia, Ms. Roble fled the war with her family when she was a child, reaching the UK when she was ten. Her love for football began in her hometown of Mogadishu when she played with kids from her neighborhood even as intense fighting between rival clan militiamen besieged the city. "We had no proper football, we sometimes used potatoes as a football, we used to make balls from newspapers and worn-out clothes," she recalls.
As a practicing Muslim, Ms. Roble says she has worn the hijab throughout her career. "Once I am in the pitch and I blow the whistle to start the game, I am not a refugee, my hijab does not matter, my gender or color of my skin does not matter, I am a referee and I know how to do my job well, that is it."
Refereeing is a tough job, one where you have to be focused and make quick decisions. Ms. Roble says she doesn't have time to think about what people think of her. "When the game ends, they realize what I am capable of. Some would even come up to me to say thank you, they are like: 'She is the best referee we ever had.'"
As for the future, Ms. Roble hopes to return to Somalia where she wants to start a football training academy for local female athletes. "I cannot wait for when Somalia becomes peaceful," she says with a wishful sigh.