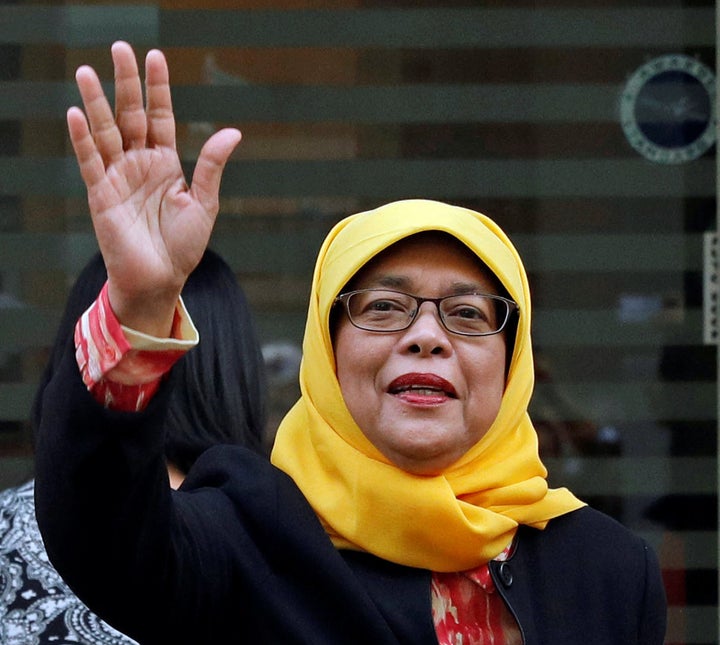 Singapore is expected to welcome its first female president on Thursday — a 63 year-old, hijab wearing woman named Halimah Yacob. But unfortunately, according to the New York Times, her legitimacy is coming under fire. "While Singapore's Constitution does, in fact, provide for voters to elect their president, the government established such narrow criteria for the candidates that only Ms. Halimah made the cut." Ms. Yacob countered, "I can only say that I promise to do the best that I can to serve the people of Singapore and that doesn't change whether there is an election or no election."
Huffington Post makes the point that "although Ms. Yacob is set to make history for Singapore as a hijab-wearing woman, the city-state still has bans against hijabs in some government schools and public sector jobs." Ms. Yacob hasn't publicly spoken about the ban, but has said that she believes the President's role is to act as a "unifying force."
The Standard Republican provides some factoids about Ms. Halima Yaqub:
1. The first Muslim woman to hold the presidency in the history of Singapore and the second head of the ethnic Malay.
2. Halima holds Singapore presidency for 6 years, succeeding Tony Tan Ting Yam.
3. A Muslim woman from an Indian father and a Malawian mother.
4. She is 62 years old and married to Yemeni businessman Muhammad Abdullah Al-Habashi in 1980 and mother of five.
5. Worked in public affairs for 40 years and graduated from the Faculty of Law, University of Singapore in 1978.
6. Held a position in political work in 2001 as a representative of the department of mass representation Jurong, and then appointed as minister of community development and youth and sports.
7. She was Minister of Social and Family Development in 2012 and recently served as Speaker of the Parliament for 3 years.