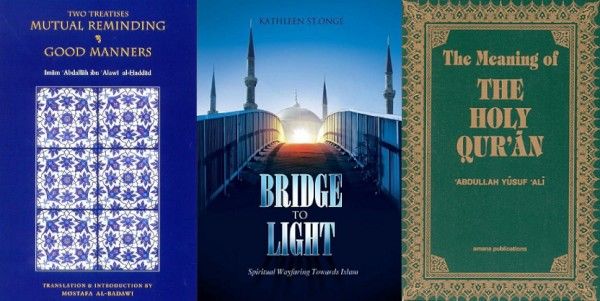 Publishers Weekly presents a listicle of Muslim publishers that focuses on Islam for the English-speaking reader:
– Simon & Schuster's 'Salaam Reads': Known as the first major publishing house to focus on Muslim characters and stories. Salaam was launched last year with the goal of publishing books in three categories; picture books, mid-grade, and YA. "Unfortunately Islamophobia has been going on for a long time, although it does feel like it's been heightened today, with mosques burning down and verbal assaults increasing," says executive editor, Zareen Jaffrey. "Feeling threatened tends to permeate the mind and writers respond to that in their work—maybe not directly, but it does show up."
– Kazi Publications: Founded in 1972, Kazi is often referred to as the oldest Islamic publisher and distributor in North America. The house concentrates on classical Islamic writings such as "Canon of Medicine" by the 11th century physician Ibn Sina and books from medieval philosopher al-Ghazali. Kazi is also developing books for the school market as schools have started to request culturally appropriate material for students.
– Mecca Books: Founder Athar Jatoi says he was interested in representing the traditions of Islam written by Muslim authors. "When I would enter Barnes & Noble, every book that I saw there had nothing to do with Islam and was written by someone who is not in any way connected to Islam, giving the outside point of view." Mecca will publish its first book under the imprint Ihya Publishing in March entitled "Three Treatises: Mutual Reminding, Good Manners, The Aphorisms" by Imam Abdallah ibn Alawi al-Haddad, a 17th century Yemeni Sufi sage and poet.
– Tughra Books: Founded in 2004, the house first published the works of Turkish cleric Fethullah Gülen. Today, Tughra's list comprises of academic and children genres. "Bridge to Light" by Kathleen St. Onge, a Canadian convert to Islam, is one of the house's bestsellers having sold 6,000 copies. "One of the biggest contributions of our publishing house is providing books that promote communication among the religions," says Huseyin Senturk, director of publications.
– Amana Publications: Best known for updating the English translation of the Qur'an by Abdullah Yusuf Ali, The Meaning of the Holy Qur'an, a bestseller for the house.