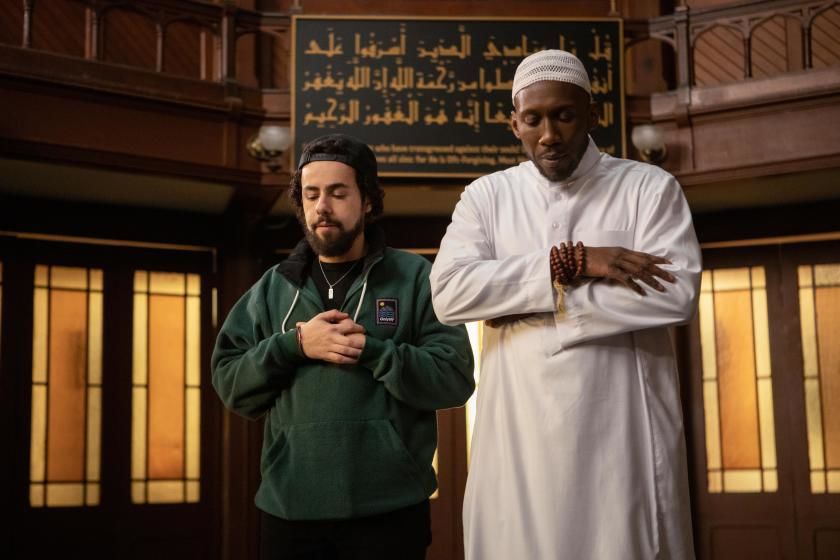 The Los Angeles Times interviews "Ramy" star and creator Ramy Youssef along with two-time Oscar winner Mahershala Ali ("Moonlight" and "Green Book") who plays a Sufi sheikh in Season 2 of the critically acclaimed show (currently streaming on Hulu).
Here are some highlights from the interview:
Q: Ramy, you've said you never set out to make a show about Muslim representation. It's "Ramy's" weird little world. But the show hits all these universal chords about self-worth, family and just the daily struggles of being a less-than-fabulous human.
Youssef: There's such little content [by Muslims] for Muslim audiences, so a show like ours is almost in this slot to represent and cover things in a certain way. But we don't. We consistently [tackle] things that can't be explained adequately in one conversation or one news headline. When you say it really shouldn't work but it does, that's exactly the point. That's the balancing act that's always really exciting for me.
Q: Part of that duality means viewers who've never been in an Islamic center or been involved in conversations between friends about what is and isn't haram are all of a sudden part of this new world. It's simple but groundbreaking.
Ali: It was sort of a shock to me that I've been Muslim for 20 years and it's taken 20 years to have the experience that I did with "Ramy." I converted like a year before 9/11, and I had just started working professionally. My first name is Mahershala. I was born with that, so I changed my last name to Ali. So I'm working on the television series "Crossing Jordan." I remember when those planes hit those towers, I had only two lines over the next two episodes.
Going from, "Do not tell anybody you're Muslim" in 2001 to 2020, when you're playing an imam on television, doing your prayers in Arabic and then praying between setups, on set, it's just mind blowing.
The leap and the change … I never imagined being on a set, and then at a given time of the day, look to your left, the right and there's like a couple of dudes over there making prayer together after they just left craft services.
Season 2 of Ramy is currently streaming on Hulu