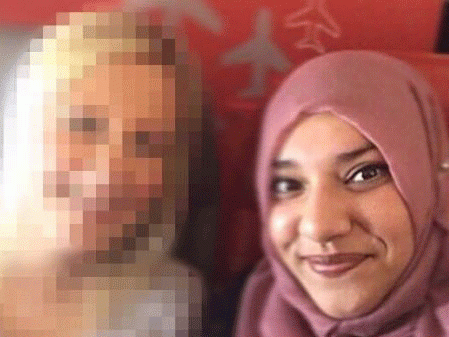 "Today I had one of the most interesting and most memorable flights of my life. I made a friend called Beverly who made a mistake and acknowledged it," Jiva Akbor, a young Muslim woman from the UK, recently wrote on her Facebook page.
Unfortunately, the airplane ride didn't start off as the most positive experience. Ms. Akbor recounts that the woman sitting next to her on the flight, Beverly, got upset when she noticed that Ms. Akbor texted the word "Allah" to a friend and called the flight attendant. The attendant supported Ms. Akbor and told Beverly that she could take another flight if she was uncomfortable. But the woman didn't leave and instead got the lesson of her life.
It was a simple lesson. Perhaps, for the first time, she got to know a Muslim woman which made all the difference. Ms. Akbor comments, "Before too long I could see remorse in her tone, I think she was shocked at her own reaction and the realization of what she had thought of me was setting in. In her own words she said 'it's so scary what the media can make us think' and 'I just panicked'." On that flight, the two got to know one another – and talked about their different faiths, Brexit, the exchange rate, Pokemon Go, mosques, churches and even their parents.
Ms. Akbor closes her post with: "I met a lady who is deep down inside a wonderful, wonderful human and showed me that the fear-mongering purposely and strategically carried out in this world by the powers-that-be today are very, very real and can make an ordinary person have the most shocking of reactions."
Ms. Akbor's Facebook posting has since gone viral with 9,000 views.