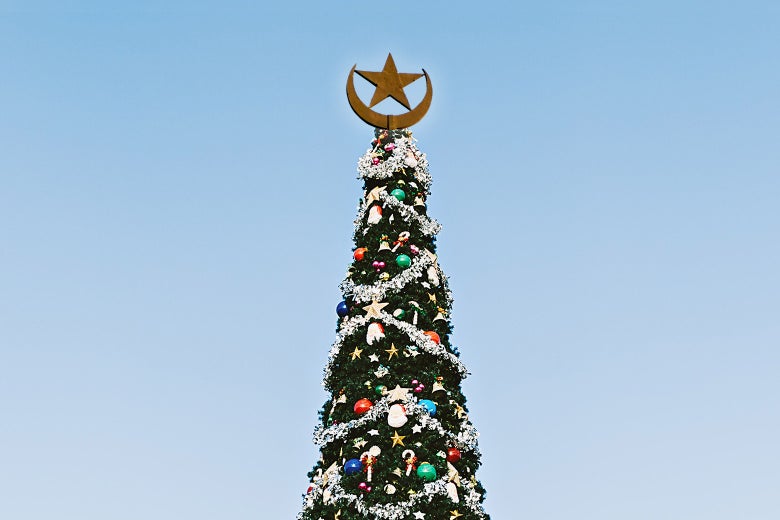 In these two op-eds for Popsugar and Slate, American Muslim writers Mishal Zafar and Aymann Ismail discuss their personal (and differing) experiences during the Christmas season, and here are some snippets from their articles:
For Me, This Is What It's Like to Be Muslim During the Christmas Holidays by Mishal Zafar.
— … I believe that the spirit of love, kindness, and generosity that comes with Christmas is universal, which is why the holiday plays a meaningful and significant part in my personal religion and culture.
— I was born and raised in Chicago by immigrant parents and godparents, who taught me that appreciating different faiths and cultures wouldn't take away from my identity but instead enhance it. My Pakistani-Christian godmother would drive me to Quran classes everyday, and her Muslim husband would take us to church on Christmas.
— We celebrated Christmas every year at my godparents' home with home-cooked food, holiday music, and gifts with our closest family and friends.
— Today, my kids are growing up with the same values and Christmas traditions I had, and this time of year is just as magical for them.
How to Survive Christmas as a Muslim by Aymann Ismail
— Celebrating Christmas wasn't allowed in my house.
— My parents had both immigrated from Egypt in the 1970s, where, I should note, Christmas is very much a thing, except Egyptians celebrate it on Jan. 7, as Eastern Orthodox Christians do, with the big trees and everything. But in raising their American kids, they were deathly afraid that they would fail to pass down their own Muslim traditions.
— As I got older and awakened to the political reality of being a Muslim in America, my refusal to do the Christmas thing became a sort of protest.
— The hardest part of surviving the Christmas season is finding places to go absent the cheerful crowds that seem intent on making their holiday all about getting you involved
— One trouble every dutiful Muslim child who avoids Christmas must face is being very envious of your friends after Christmas break, who'd trot out all the awesome stuff they got for the holiday. It's not fair. So I've decided that gifts are allowed on Dec. 25. It's fine! But here's the secret: It's all about the wrapping paper. Neutral colors with sparkles are great for wrapping not-Christmas gifts.
— …when you're an American, it's really impossible to not celebrate this time of year. You've got the days off, so what are you going to do? Hide and pout? Making your political lack of cheer someone else's problem is probably the worst thing you can do. My main rule: Keep it cheerful, people. Just remember that cheer definitely has nothing to do with Christmas.