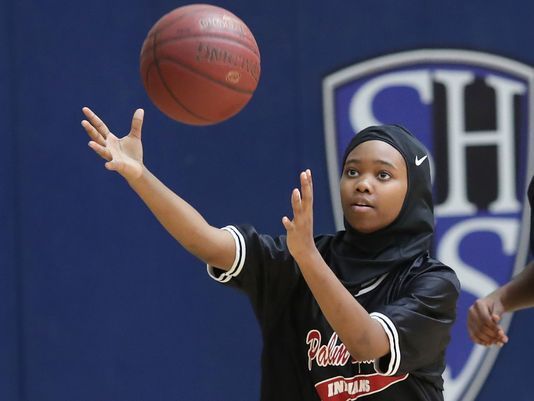 Camrin Hampton is a freshman basketball player for the Palm Springs high school team Hampton, and as an observant Muslim, wears a hijab — yes, even during a game. She keeps her hijab in place with pins which has lead to problems as school officials had to bench her, saying she couldn't play safely with pins in her hair (as other players are not allowed to wear jewelry during a game).
JV boys basketball coach Bryan Stephens witnessed a defeated Camrin having to sit out the games, and said he became concerned, noticing her bright smile fading. Coach B (as his students refer to him) knew that Olympic fencer Ibtihaj Muhammad wore a sports hijab, and got in contact with a sales rep from Nike who told him that although retail sports-hijabs were in the works, alas, they weren't coming out for months. Coach B implored that if there was anything that Nike could do, even sending a prototype, they would sure make one student was happy. And a couple of days later, a box arrived with two of the yet-to-be-released Nike Pro Hijabs featuring a pull-on design and long back which keeps the hijab in place while the mesh fabric provides comfort.
Upon receiving the sports hijabs, Camrin's jaw dropped and her smile went wide. "I was like 'Oh my gosh!' I couldn't believe it. It was amazing. Coach B took it on himself to do that. I don't know how he did that, because I knew they weren't even out yet. I'm so appreciative!" Coach B says it "was a blessing… With so much going on for them, to look out for her like that when they didn't have to."
The letter from Nike also lifted Camrin's spirits. "They basically said we heard what was happening to you, and we want you to be as comfortable as possible to be your best." Which she has. And last Thursday, Camrin was back in the basketball court, playing, with "her usual aggressive style, rarely having to even think about her hijab" (according to the Desert Sun).