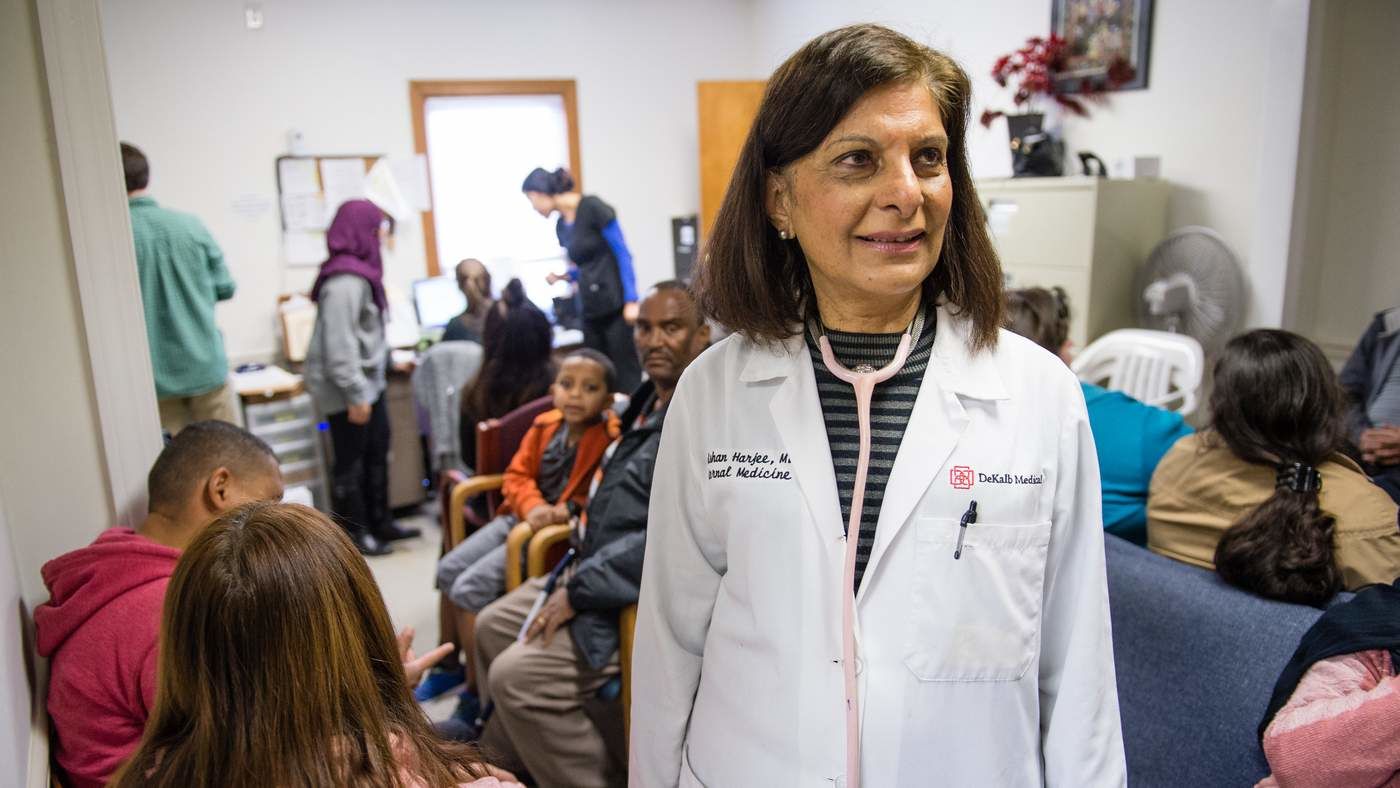 Dr. Gulshan Harjee persevered through war in Tanzania, the Iranian revolution, a terrific bus crash, personal illness and devastating family tragedy – and despite all these obstacles and personal setbacks, she remained focused on achieving her dream of becoming a doctor in America. She says two things guided her – her love of family and her Islamic faith.
Growing up in Tanzania, Gulshan was extremely close to her grandmother who, after suffering an illness for which she eventually recovered, inspired Gulshan's quest of becoming a doctor Her father also encouraged his daughter as he too wanted to enter the medical field when he was young, but wasn't given the opportunity because the family was poor. In the '70s, he helped Gulshan flee war-torn Tanzania, to pursue her education first in Pakistan, then Iran and finally… America.
In Pakistan, she met her future husband Dean Delawalla who, like Gulshan, was an Ismaili Muslim (a minority sect of Islam). He was a loan officer at a bank who had big dreams of moving to America to attend law school and becoming a lawyer. His tenacity inspired Gulshan through the difficult times ahead. They had much in common. "It seems like there was something — a power above us — that was trying to get us together," she recalled.
As young adults, Dean and Gulshan eventually parted ways – he went on to America while she continued her education in Iran. One day when she was living in Iran and traveling on a bus, she was involved in a terrible accident where many died. Gulshan says she searched her Islamic faith for spiritual guidance, and turned to a passage in the Quran about resiliency in the face of tragedy: And we will surely test you with something of fear and hunger and a loss of wealth and lives and fruits, but give good tidings to the patient, who, when disaster strikes them, say, 'Indeed we belong to Allah, and indeed to him we will return.' Those are the ones upon whom are blessings from their Lord and mercy. And it is those who are the rightly guided.
In 1979, she managed to flee the Iranian Revolution and went on to America, where she would be reunited with Dean. She still needed to finish her education, and applied to various medical colleges but faced rejection (mostly because the U.S. schools wouldn't accept her Iranian education). Reeling from the setbacks, she was soon introduced to the founding dean of Morehouse School of Medicine who was impressed with Gulshan, and found her personal journey remarkable. Gulshan embraced the predominantly African American school's mission of helping medically underserved patients, including immigrants and refugees, and would go on to excel at Morehouse and complete her studies at Emory, where she graduated from medical school in 1982.
Dean would go on and graduate from Atlanta's John Marshall Law School, and soon started work as an immigration attorney. The two married in 1980, and would go on to have two children – a boy and a girl. Gulshan continued to work and started a small medical practice in Atlanta while Dean began trading stocks. In 1989, Gulshan and Dean became naturalized U.S. citizens.
Things were good for the young family – that is until July 29, 1999 when a gunman shot nine people dead and injured 13 others at a pair of stock brokerages in Atlanta. And tragically, Dean was among the fallen. Gulshan reeled from the news, saying she boiled over with frustration and anger, asking God why Dean had to die and why she was repeatedly tested. Through this dark time, she came out on the other side and says her faith helped her cope. "If I were an atheist, I don't know how I would come out of these events and experiences… I couldn't because who would I talk to?"
Slowly, she picked up the pieces, eventually remarrying, to Zulfikarali Devji, who was a co-owner of a management service company and a fellow Ismaili Muslim. But there was more tough times ahead. In 2008, Gulshan discovered she had breast cancer and underwent extensive treatments, including chemotherapy, but came out of the medical ordeal cancer-free.
Today, Gulshan says she is concerned for the fate of the nation's neediest people, especially in the shadow of the Trump era. A few years ago, she sold her medical practice to focus on her volunteer work at the clinic she helped start, The Clarkston Community Health Center. There, she serves impoverished patients without health insurance – many are immigrants and refugees.
Proceeds from the sale of Gulshan's medical practice went to help humanitarian efforts in Tanzania and to fund a pair of college scholarships she established — including one at Morehouse — for students who want to work in the health care industry. And early this year, Dr. Gulshan Harjee was awarded Doctor of the Day in the Georgia Senate chamber.
She says it is her duty to help those in need… given her faith.