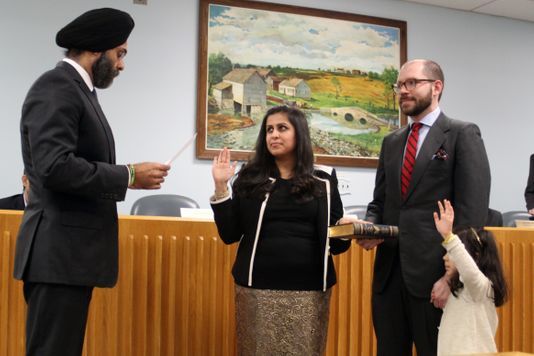 Another glass ceiling has been thankfully shattered for Muslim women in American politics. Sadaf Jaffer was recently sworn in as mayor of the Montgomery Township, becoming the first female, South Asian American Muslim mayor in New Jersey's history. "I see my role as mayor to not only serve the people of this community but also bring them together for purpose of the common good and promote the synergies that result when we work together," Ms. Jaffer said upon taking her oath.
Ms. Jaffer comes from the world of academia, and is a scholar of South Asian, Islamic and gender studies. She holds a doctorate from Harvard University and recently was a postdoctoral research associate at the Princeton Institute for International and Regional Studies, at Princeton University.
Here's more about Ms. Jaffer's academic accomplishments, taken from her Princeton faculty page:
Ms. Jaffer aims to understand Muslim communities by looking beyond religious authorities to shapers of film, literary, and popular culture. She is currently working on a book entitled "Lady Genghis Khan: Ismat Chughtai, Progressive Literature and Secularism in Modern India", which offers new perspectives on Islam in India through the lens of celebrated Urdu writer and cultural critic Ismat Chughtai. Jaffer is also conducting research for a second book project on South Asian social media. Based on preliminary research, she has published a reflection paper in the Journal of Women's History entitled "Women's Autobiography in Islamic Societies: Towards a Feminist Intellectual History" in which she explores the ways women use dynamic online texts to emphasize national belonging to Pakistan while rejecting Islam as promulgated by the state.
Jaffer is a graduate of Georgetown's School of Foreign Service and earned her Ph.D. from Harvard University. She recently completed a postdoctoral fellowship in Global Studies at Stanford University.