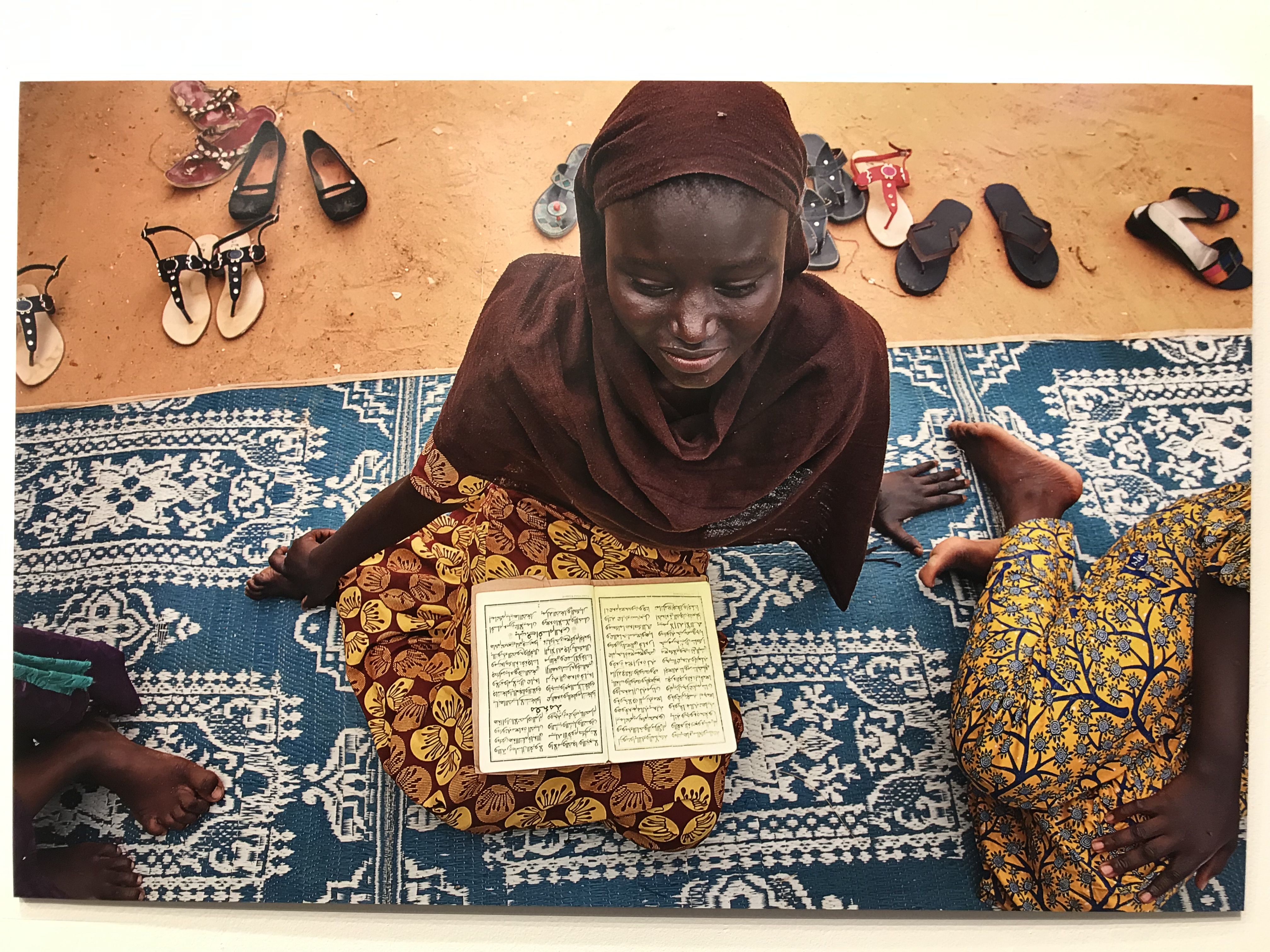 Beyond Geographies: Contemporary Art and Muslim Experience features eight Brooklyn-based Muslim artists who work in various media (for example, pictured is a young woman reading poems from the qasā'id, a collection of religious meditations written by Sheikh Amadou Bamba).
Chief Curator Elizabeth Ferrer explains that the exhibit reflects Brooklyn's diverse Muslim population while addressing "ideas about spiritual philosophies, ritual, science, nationalism, migration drawn from the artists' personal experiences." Ms. Ferrer adds that the goal was to go against expectations, saying that the exhibit is "meant to challenge stereotypes and discuss the complexities of Muslim identities. These artists, whose work on the one hand does deal with the influence of their Muslim background, are also very much involved in the contemporary art discourse."
According to National Geographic, BRIC's group exhibition showcases installations, photography, sculpture, video, painting, drawing, and performance. Of Middle Eastern, South Asian, and African-American descent, the featured artists include Iranian-born new media artist Morehshin Allahyari; documentary photographer Laylah Amatullah Barrayn; Algerian-born sculptor and installation artist Mona Saeed Kamal; Texas-born sculptor and performance artist Baseera Khan; Brooklyn-born interdisciplinary artist Nsenga Knight; multidisciplinary artist Umber Majeed; Queens-born multimedia artist Asif Mian; and Iranian-born interdisciplinary artist Nooshin Rostami.
Ms. Ferrer says she hopes the show will help viewers understand that "to be Muslim, especially to be Muslim in New York at this point in time, is a very varied experience… There's no one way to be Muslim."
The exhibit runs through November 17th at BRIC House, Brooklyn.