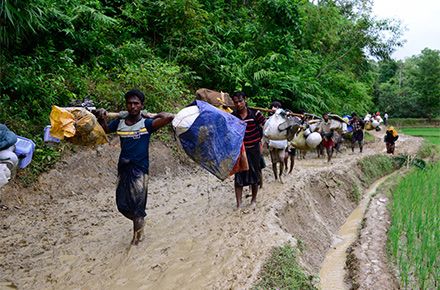 Al Jazeera Reports:
Rohingya Muslims as old as 105 are pouring into Bangladesh in the hope of finding peace and some semblance of a future, as the Myanmar army and allied mobs lay waste to their homes and villages in the western region of Rakhine. In lines stretching deep into the horizon, tens of thousands of Rohingya Muslims – 80 percent of whom are women and children – have crossed into southeast Bangladesh after making the long and arduous trek from the impoverished region of Rakhine state. "It was the hardest thing I've ever done," said Tahera Begum, 22, who gave birth to her second child in a forest on the way to the border.
Relaying accounts of massacres at the hands of Myanmar security forces and Buddhist vigilantes that started on August 25, the sick, wounded and elderly have received a cold and hostile reception by their closest neighbor. "Who will take us?" Halima desperately asked after recalling how she was beaten by a mob in front of her children while fleeing to the border.
The Rohingya, an ethnic Muslim group who have lived in Myanmar's Rakhine State for centuries, have suffered decades of repression under the country's Buddhist majority. Stripped of their citizenship by the military junta in the 1980s, they have endured killings, torture and mass rape, according to the United Nations.
So far, at least 270,000 Rohingya have fled since August 25, bringing the total number who have sought refuge in Bangladesh since October 2016 to more than 450,000.