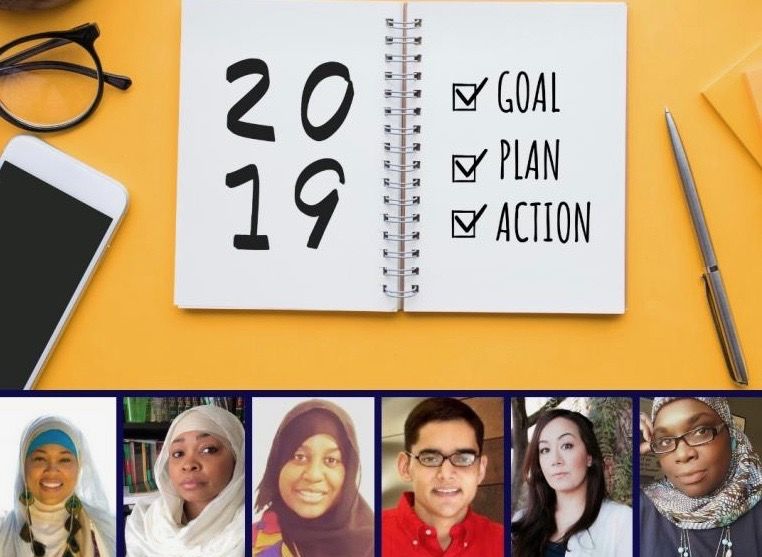 Muslim writers and authors share their 2019 Writing Goals.
Sakeena Rasheed, Founder – Muslim Writers and Publishers
In 2017 I participated in NANOWRIMO. I wrote over 30K words in 30 days. In the book, I talk about the year of my life after my father passed away. It was a deeply emotional journey and I'm grateful to have experienced it. This past year I refined that piece of work, added to it and look forward to publishing it in 2019!
Margari Aziza, Co-Founder – MuslimARC
First thing in 2019 I have to submit a final draft of a chapter on the intersections of anti-Black racism and Islamophobia for a volume on Islamophobia. It is due in January. I contributed to a book on How We Fight White Supremacy: A Field Guide to Black Resistance, which is due to come out March 2019. I am excited about the volume and engaging with the others writers.
Ammar Habib, author
For 2019, I'm hoping to release my 7th & 8th novel or to at least have publication dates set for them, God-Willing. One is currently titled The Legendary Wolf and the other is currently titled Ana Rocha: Cover of Darkness. I am also the editor-in-chief for an online publication called Thriller Magazine.
Umm Juwayriyah, author
Some of my writing goals for 2019 are to create events offline for Muslim writers to meet, network, and collaborate on projects throughout the year. Of course, the American Muslim fiction anthology will also be a big project for me in the new year, enshallah.