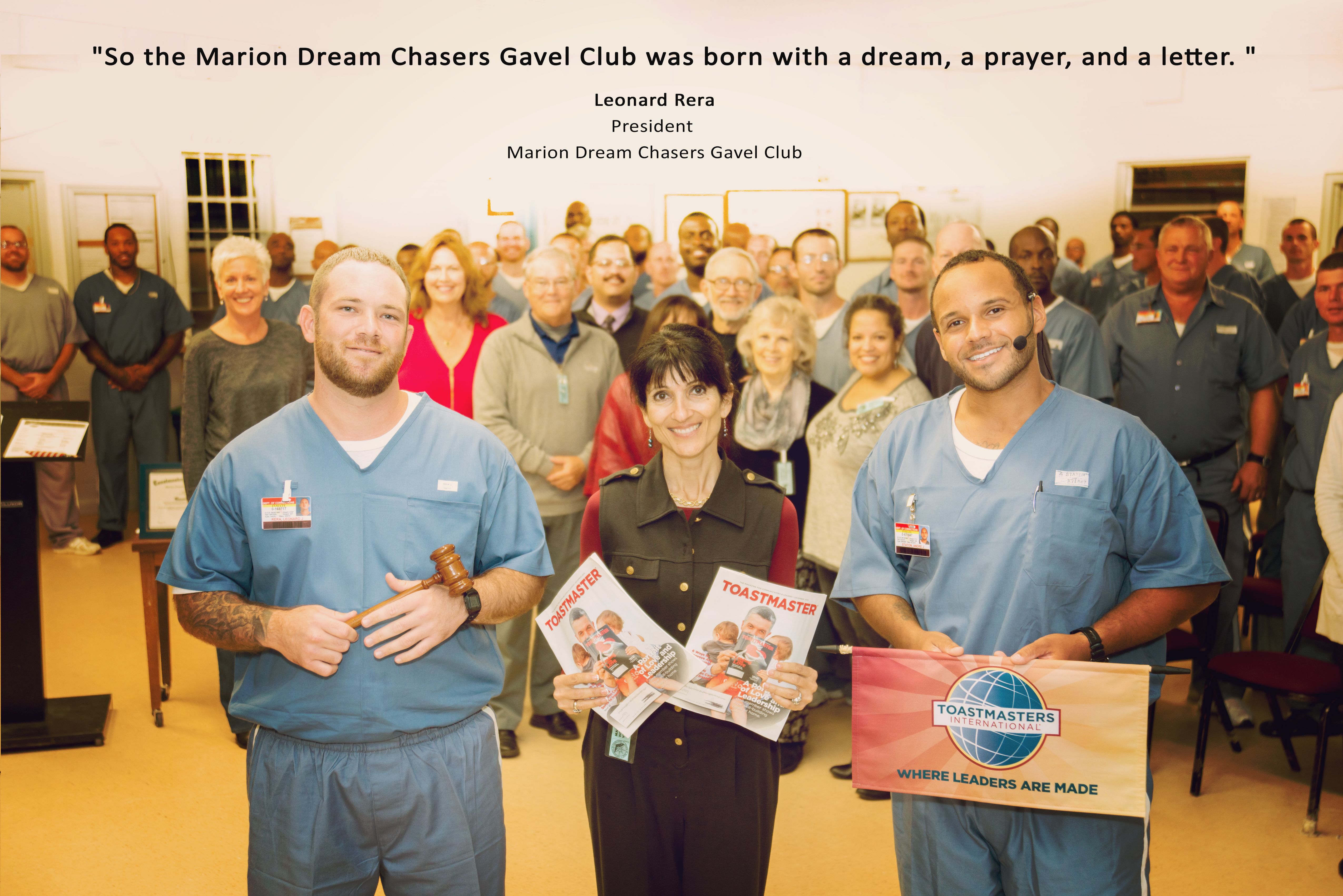 Editor's Note: the following is an original article written for UPF.
Manal Fakhoury was packing for an international trip when a letter from the department of corrections caught her eye. The leadership coach had received a 4-page handwritten plea by an inmate for help. Inmates needed life skills if they were ever going to make it in the outside world. The inmate suggested that perhaps she could start a Toastmasters-type club, called a Gavel club.
Fakhoury, a long-time active member of Toastmasters, said that she had no prior experience in the prison systems but took this as an invitation from God to bring her into the prison system.
"I felt compelled to help, it was not something I had to think about, and I called the chaplain and emailed my friends and started the process. When we first went into the prison we were greeted with a standing ovation. The prison warden was very supportive, and he saw the positive affect this was bringing," said Fakhoury.
Richard Midkiff, an inmate at Orange County correctional facility who is waiting to be sentenced and expects to be released, said he first met with Fakhoury when she started the Gavel club and then found out that she runs a leadership institute. He collaborated with Fakhoury to hold a two-day leadership conference with about 80 inmates. Midkiff said the feedback he got from the inmates promoted him to do more and so again with Manal's partnership the S.A.G.E. (Such a Great Experience) program was formed.
"I was hungry to do something positive. I was arrested at 19 and I made the choice to educate myself and I wanted to share that in some kind of way. After meeting Manal, it opened the doors for me," said Midkiff.
The Gavel club, which started three years ago, has expanded and allowed for added programs such as Gavel University which focuses on consciousness and meditation, and The SAGE Program which offers 32 classes and programs based on Tony Robbins work. It is run just like a college and offers classes in real estate, restorative justice, conflict resolution.
Le'da Perez from Ocala said she wasn't surprised that Manal was the person to lead and support this program. When Manal received the letter, she rallied all the people Toastmasters to help start the Gavel Club, said Perez.
Perez who has known Manal for almost six years said that Manal is a great encourager and played a critical role in advancing her own journey at Toastmasters. "This is a woman who has been such a great inspiration, she meets you at your level and lifts you up. She has really shown what it means to be in service and be a part of your community," said Perez.
Midkiff said that his collaboration with Fakhoury has the potential to change lives. He said that most people who come into prison have been told that they are not good at anything except for crime. To have programs in the prison that can allow inmates to learn critical skills and develop confidence can reduce recidivism and empower inmates to a lead a better life.
For Fakhoury, she sees the work she does in the prison as an extension of her faith. "When you serve, I see that as part of the faith. I don't have an agenda and it is part of our faith to serve the communities that have been forsaken and marginalized, said Fakhoury.
Fakhoury, is based in Ocala, and holds a Ph.D. in Pharmacy and is the President and CEO of Fakhoury Leadership International.