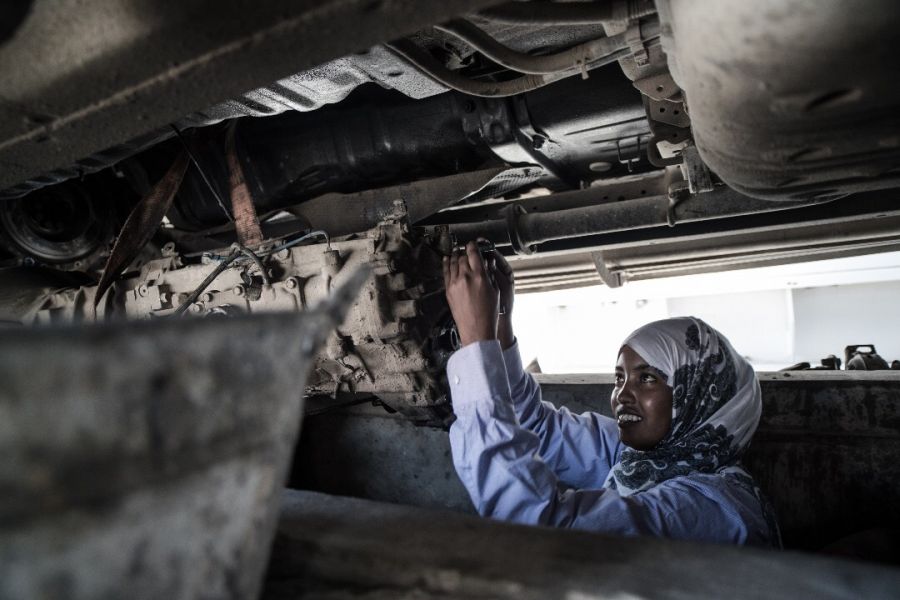 Eighteen year-old Nasra Ibrahim is reported to be Somalia's first and only female auto mechanic. Which is a no small feat as only 30% of the country's youth are employed, and only 25% of the female population is said to be literate.
Ms. Ibrahim recounts that every day was a struggle growing up in Hiiraan as the second-eldest of six children. Hiiraan is a region in south-central Somalia where the extremist group al-Shabaab unfortunately thrives. According to PRI, "the militants forced children to fight, they take over and shutter schools and rape and force girls to marry fighters… those who [didn't] obey faced execution by stoning."
At a young age, Ms. Ibrahim worked as a farmer and street vendor to bring money into the family. But when she saw the situation of her family become even worse, economically, she knew she had to leave and managed to hitch a ride to the Somali capital, Mogadishu, some 200 miles away. Along the way she experienced car problems and spent ten days of an already dangerous journey for a young woman, waiting for the car to be fixed.
Eventually Ms. Ibrahim made it to the capital, and discovered a local garage where mechanics taught her their trade, and after an apprenticeship, landed a coveted job as a mechanic. Today, she says her life is spent either sleeping or working, as she is on call six days a week. The majority of her earnings is sent back to her family in Hiiraan.
Working as Somalia's only female mechanic does bring its share of hurdles though. Some customers feel she was too free, and others that she may not be trusted. But Ms. Ibrahim says her work speaks for itself. "I have proved to them that I can make it so they have more respect for me than before." As a result, she has become well known. "When people come to the garage they say 'we hear there is a girl mechanic. Is that her?' … I think lack of confidence is what keeps most women from doing jobs that are different."