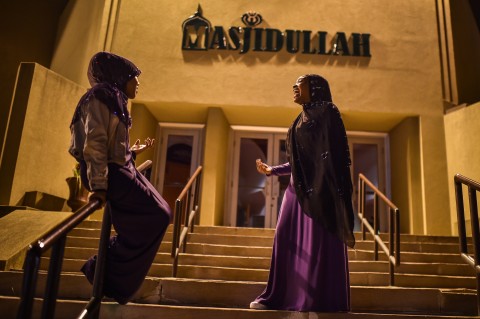 Philadelphia is a "plethora" of Muslim-owned businesses, community organizations and charitable initiatives, according to the Washington Post. It is also home to a popular Islamic historical museum. There is also a Muslim city council member and a Muslim state senator; the chairman of the city Board of Commissioners is Muslim, and there has been a Muslim police chief. Eid al-Fitr and Eid al-Kabir are observed within the Philadelphia school system, and 2017 was the fifth year in a row that City Hall hosted an annual Iftar dinner in celebration of the holy month of Ramadan. "Everywhere you go, Muslims in the bank, Muslims in the hospital, in the police department," says Imam Shabazz.
Local religious leaders say that the majority of Muslims there are black and that the community is thriving. Philadelphia was once a Nation of Islam stronghold, and was once home to 12 affiliated mosques. After the group's leader, Elijah Muhammad, died in 1975, his son Warith Deen (W.D.) Mohammed took over, and declared that American Islam was intertwined with the black experience. According to the Post, "Masjidullah and other historically black mosques have thus focused much of their attention on addressing problems of inequality and poverty among black Americans."
Founded by W.D. Mohammed, Masjidullah is one of the city's larger mosques, and a continued source of community service such as a monthly Sadiqa program in which members take food to people in need. The mosque also offers a Boy Scouts and Girl Scouts program, and engages with interfaith gatherings with other mosques, churches and synagogues. "We also have various cultural programs here in this facility. So from time to time, we have jazz shows, spoken word concerts, plays, dinners and all kinds of educational symposiums, forums for learning Islamic topics," says Iman Malik Shabazz. Masjidullah is one of only three mosques out of 37 in Philadelphia that are tied to the W.D. Mohammed tradition.