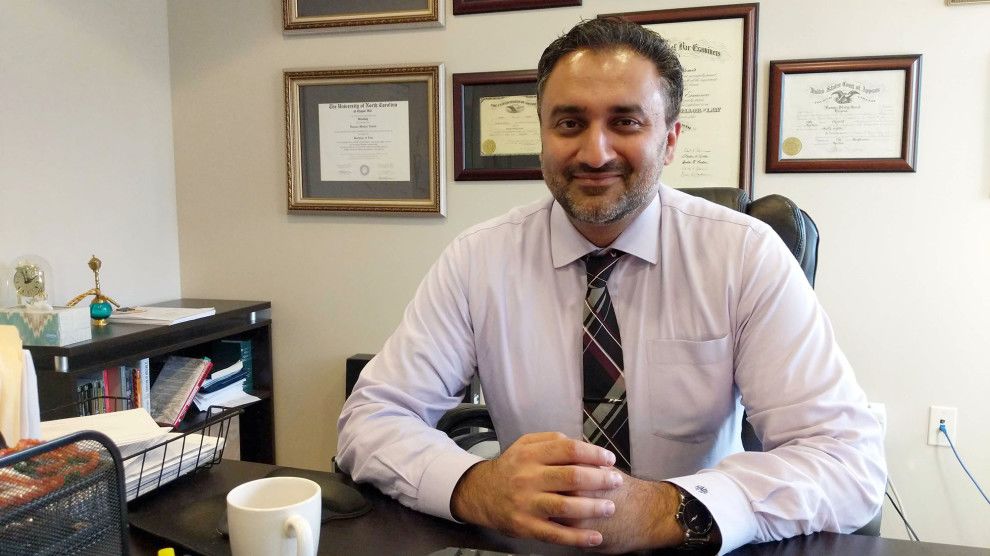 On the evening of January 28, 2017, immigration attorney Hassan Ahmad headed to Dulles International Airport in Virginia. It was the day after Trump announced his travel ban against immigrants and travelers from Muslim majority countries. Mr. Ahmad said he felt compelled to be there, supporting the hundreds of protesters and offering assistance to Muslim travelers, not only because he understood immigration law but also because he, too, is Muslim.
After that experience, Mr. Ahmad changed the direction of his law practice and joined the Virginia Asian Advisory Board, a state board representing the interests of the Asian American and Pacific Islander community, and the Commonwealth Commission on Diversity, Equity, and Inclusion, which investigates discrimination and promotes inclusive laws.
Mr. Ahmad says he is taking his work a step further and is running as a Democrat to represent Virginia's District 87 in the House of Delegates. "The state House is where all the action is," says the lawyer turned politician. "That's where the decisions are made that actually affect my clients' lives and the community that I've been serving for the past 12 years in Virginia."
In this interview with Mother Jones, Mr. Ahmad gives a riveting account of the night at Dulles airport which forever changed his life:
I live 10 minutes from Dulles Airport, and signed up for a [volunteer] shift [offering legal services] that night. I figured hey, I represent clients, I know some officers at the deferred inspection unit…maybe some of my local knowledge would be beneficial. Let me go see what I can do.
This was the same day two Yemeni brothers had been turned away [at the airport and denied entry into the United States]. Since they were residents of Virginia, the governor and the state attorney general were at the airport. What struck me was the fact that they tried to get back there to talk to CBP about the residents, and they couldn't get through. That was the first inclination I had that, okay, something is very wrong here. This is going to be very different.
As the crowd started to grow, lawyers started showing up and the international arrivals hall turned into a functional law firm. There were lawyers sitting there doing research on their laptops, people were bringing power strips and printers, and lawyers were interviewing people. The American Civil Liberties Union had filed a lawsuit in New York that led to a nationwide injunction of the ban, but there was a lawsuit here in Virginia, too. The judge signed an order saying that the detained permanent residents must be allowed to meet with the volunteer lawyers at Dulles. We printed off the order and shoved it in [CPB officers'] faces and said, "Hey, you got to open the doors and let us go in." And they said no.
That was a seminal moment for me. I've been to supermax prisons before and I have never been denied access to my client. Sometimes they'll say, "Oh, you can't come in right now, things are shut down," but I've never been told, "No, you cannot meet with your client"—15 years of practice, that's never happened. Once the crowd found out about it, they started yelling, you know, "Let them see their lawyers" and "Due process." That's something I'm never going to forget.
As lawyers, we were always trained to think, okay, there's a system. If you don't like the result, you can file an appeal, there's a motion for reconsideration. You might not always get the result that you want, but at least there's the right to tell your story. And that was being taken away from us. Two days before the ban, I could have gone back there at the airport and talked to these officers—and now the governor of Virginia couldn't even do it. The attorney general of Virginia couldn't. And Sen. Cory Booker drove down from New Jersey that night, and he couldn't directly talk to them.
If somebody could just sign away all those rights and change the system with the stroke of a pen, 10 minutes from my house within 24 hours, then this system must be a lot more fragile than I had thought. I realized that we would have to push back. We would have to use community rallying. If the rules aren't working for us, then we are going to come together and we're going to change the rules. And so I walked into Dulles that night as a lawyer, but I walked out as an advocate.