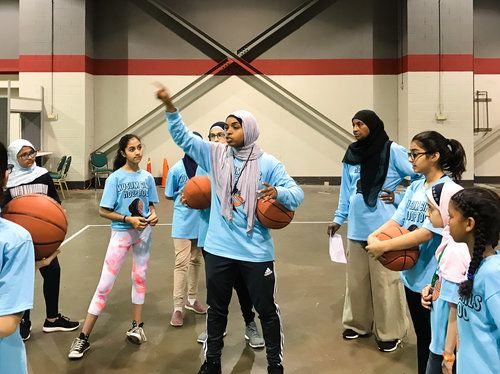 In high school, Bilqis Abdul-Qaadir set the state record for the highest all-time high school basketball scorer (for both men and women). She then went on to play ball for the University of Memphis in Tennessee where she was the first hijabi basketball player to compete in the NCAA Division I. But unfortunately, wearing the religious headscarf would later come between the hijabi basketball player and her lifelong goal of going pro.
After college, Abdul-Qaadir had the opportunity to play professional basketball in Europe but the International Basketball Federation (known as FIBA) enforced a strict rule of banning all religious head coverings. "I had to choose between my faith and the sport that I love," said the athlete. "And I questioned wearing my scarf. I questioned being Muslim."
But ultimately, her faith won out and she began to fight the rigid rule, forming an activist group with other athletes, whereby they pressured FIBA via petitions and social media campaigns — see #LetThemPlay. Last year, they won their battle and now all religious head coverings (including turban, yarmulke and hijab) are allowed on the basketball court.
But by then it was too late for Abdul-Qaadir to go pro. Today, at 24, she finds herself guiding the next generation and has started the online campaign Muslim Girls Hoop Too. She is also a motivational speaker and runs basketball clinics for Muslim girls in Chicago. She says she doesn't want Muslim girls to go through what she went through. "To put your life on hold or to put your career on hold, or your opportunities, because we're different or because people think we don't fit the norm," is something this athlete with a heart will just not tolerate for others.