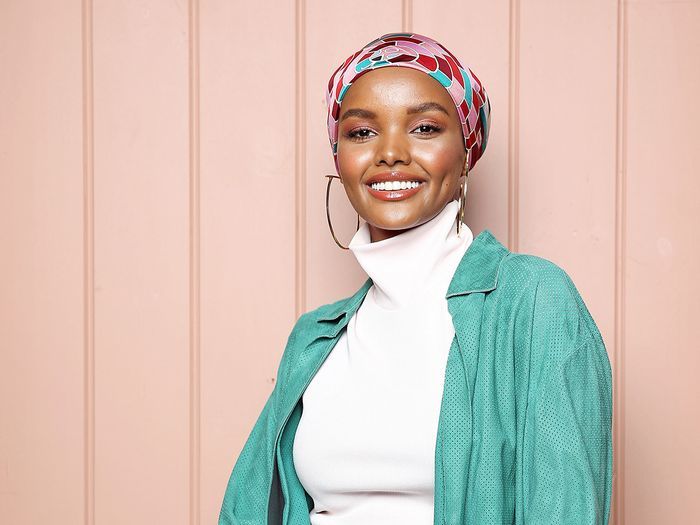 Lifestyle journalist Jasmine Fox-Suliaman "fangirls" over model-activist Halima Aden who's known as the first model to wear a burkini on the cover of Sports Illustrated and the first hijabi to run in the Miss Minnesota USA pageant.
Here are some snippets from what Fox-Suliamane calls an "inspirational" interview:
— On becoming a top model:
I competed in the 2017 Miss Minnesota USA pageant wearing a hijab and burkini, fully covered swimsuit, during the competition. While I didn't win, I did generate international media attention, as no woman had before competed in a hijab and burkini. Immediately after, the pageant organizers were getting calls from Rihanna's team to shoot with Fenty Beauty, Carine Roitfeld to shoot for CR Fashion Book (where I landed the cover of Issue 13), and IMG Models. It was a whirlwind and all happened so quickly. It was uncharted territory, as there had never before been a hijab-wearing model, so that came with a lot of unknowns and the need for conversations on how to best navigate with my agency, clients, and brands. I'm proud to say that just three years later, it is not uncommon to see a hijab-wearing woman on the runway or on a magazine cover.
What moment thus far has been the most surreal for you in terms of your career?
For me, there have been a few moments. I appeared on the cover of British Vogue, which had never before in its 102-year history showcased a woman wearing a hijab on the cover. What made that shoot especially wild is that another newcomer to the industry at the time, Adut Akech, and I realized we were born in the same exact refugee camp. My family was given the opportunity to resettle in America, while Adut's resettled in Australia.
Why is it so important for young Muslim women everywhere to see someone like you on the cover of magazines or on the runway?
Growing up, I never saw anyone who looked like me represented positively in mainstream media. It's important that young Muslim women everywhere see someone like me in these spaces to know that they too can be there. For me, I never knew a hijab-wearing Muslim woman could be a model because I never saw one before. I want young girls to know that if you don't see yourself represented somewhere, be the one. If you aren't invited to the table, pull up your own seat.