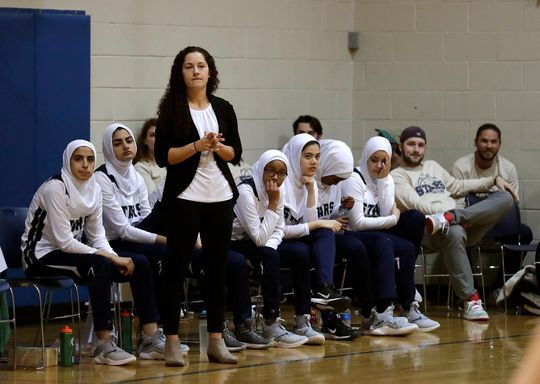 The Milwaukee Journal Sentinel reports that the girls basketball team at Salam School, a traditional Islamic school associated with the Islamic Society of Milwaukee, is having a stunning year. "A lot of people think Muslim girls don't know how to play," Coach Kassidi Macak says with a chuckle. But at 6-1, the Salam Stars are proving they indeed have game.
The girls feel they are often under-estimated on the court, as their opponents take in their hijabs and modest athletic wear. And that's okay by them. In a much anticipated match last week, according to the Sentinel, "the Stars blew the St. Francis Mariners out of the water, 69-38, a team known for its rapid-fire style of play. The Stars dominated the first half, 31-8, and the Mariners never had a chance, falling for the first time in the years-long rivalry between the teams."
"It was such a great feeling to bring a W home. They're a competitive team. And it was really hard. But this season, we came out strong," says senior guard Rula Sarsour, who scored 12 points against the Mariners. "When we went to the locker room, we were screaming and very excited."
Not all the lady Stars wear hijab. Some choose not to wear it outside of school but in classes, as well as athletics, the hijab is part of the school uniform. Of note, the school has received a waiver from the Wisconsin Interscholastic Athletic Association for girls to compete in the headscarf and modest wear.
For the most part, the girls' families have been supportive though there have been some hitches. "My dad was kind of against it at first — it was more of a cultural thing than religious," says senior center Nadira Ali, whose parents emigrated from Somalia before she was born. "I eventually convinced him that when you go to college, it's more than just about grades. They're interested in the leadership you bring to the table."