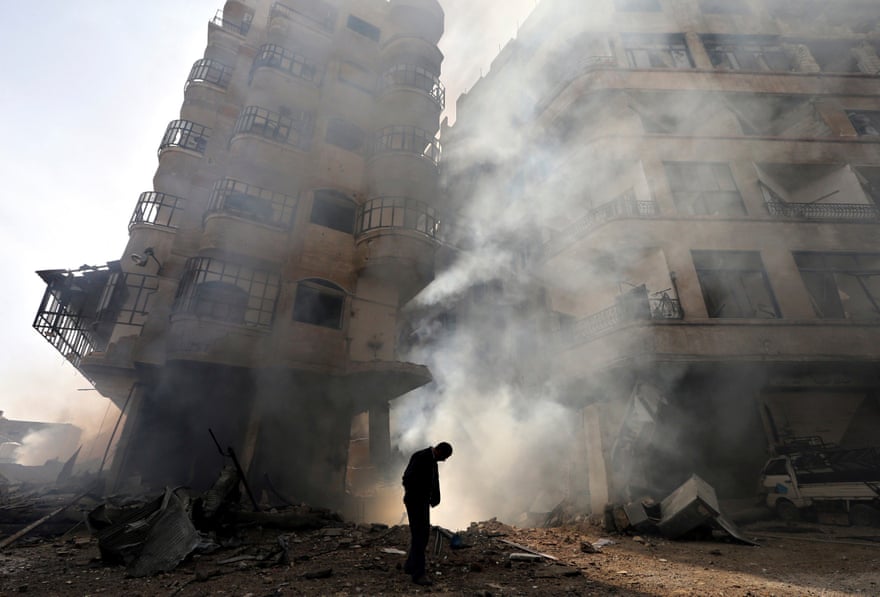 Khaled Khalifa is a Syrian novelist, screenwriter and poet. His 2012 novel, In Praise of Hatred, was a finalist for the International prize for Arabic fiction (and was also banned by the Syrian government). He currently lives in Damascus, and in this op-ed for The Guardian, talks about his experiences choosing to stay and live in the war torn city while most of his family and friends have fled the country and are now refugees.
Here are some highlights from the piece:
— ON family and friends who have fled Syria and "crossed the sea in a rubber dinghy." I no longer asked for details of the journey or discussed it with them. I wished them a safe trip and asked them to put our minds at rest when they arrived safely. Hundreds of thousands of Syrians are still thinking along the same lines. In coffee shops in Turkish towns and cities, they exchange the telephone numbers of traffickers and information about the best routes. They post about these things on Facebook, sometimes even in open forums.
— Most of my friends have left the country and are now refugees. All I can do is look for the names of the missing and the drowned and track my friends' new addresses. Whenever a boat sinks, I find myself spinning like a madman, desperately searching for information, for lists of the drowned and any details about them – which towns or villages they were from, their family names, pictures of them.
— Leaving the country became an epidemic that swept our lives. Places began to empty of their usual customers. Everything was changing very rapidly. The streets of the city were deserted, the windows were dark and telephones weren't answered. Everything suggested imminent disaster. Everyone sensed it. I started to suffer from an overwhelming sense of loss; I felt I was losing all my friends and there was nothing I could do about it.
— At first I didn't believe they wouldn't all come back. I thought their departure would be temporary. But after six years of this war, I've arranged my life around those people's absences.
— If you research Syrian refugees, you find there is something that distinguishes them from other refugees, which is to do with their great diversity of cultures and classes.
— People like me, who live with characters they invent on paper, and who celebrate imagination, do not like to feel impotent. So I've become more attached to my life here, and have started to worry about being infected by the plague of displacement that has struck the city. I ask myself whether I would stay here if my house was destroyed. I don't have an easy answer, but recently I've begun to come to terms with the idea. Yes, I would remain – but why? I don't know, or perhaps I'm embarrassed by the knowledge that I simply want to cling to a place that has a smell I know well.