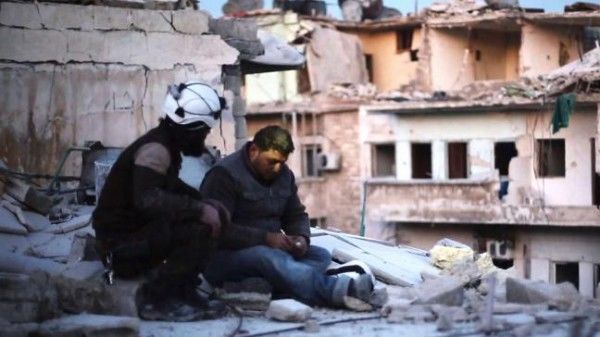 Firas Fayyad is a Syrian-born documentary filmmaker whose latest film "Last Men in Aleppo" won the 2017 Sundance Grand Jury Prize and is a hopeful for this year's Oscars race for feature documentary. The film focuses on the fearless "White Helmets" — volunteers from all walks of life who, when the barrel bombs begin to drop, run towards danger and rescue survivors, often tragically found in the rubble remains of their homes. Today, the filmmaker lives with his wife and daughter in Denmark where he continues to make documentaries about his homeland. In a recent interview, he talks with the Hollywood Reporter and here are some snippets:
ON why he made this movie
This documentary was about my country, my people, my nightmare. The feeling that I left behind a lot of people that didn't survive the scene, I'm all the time guilty with that. So that's a big motivation. This is a film motivated by [the notion that] I have survived through this movie and I'd like to share the things that I've witnessed.
FACTS VS FAKE NEWS
At LAX a border guard interrogated me and looked through all my stuff. And he asked me, "You are the White Helmets guy?" He said, "This is fake news. I didn't believe these things." I asked him if he read a lot of Russian propaganda. It shocked me. I'm looking into his eyes and couldn't believe it. It's coming through U.S. people and even people who work for the government.
REAL HEROES
I try to show how the White Helmets helped people to be hopeful, and it helps young people to join the White Helmets and feel like they are survivors and are helping to make change in their country. They're working hours and hours to save a baby and they can see how meaningful life is. The number of people who they saved, these people will build Syria in the future. These people build Syria through saving more than 100,000 lives. Just imagine this number being killed. When you talk about real heroes, it's people that make change, the people we don't see every day on the front page or listen to their stories. This is a real hero, not like Superman in a Hollywood film.