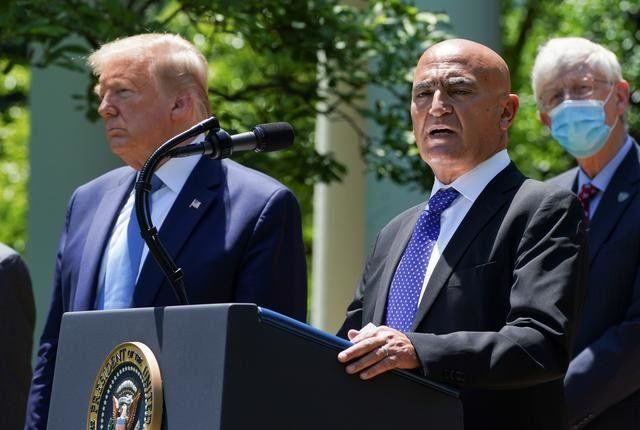 Arab News reports:
Donald Trump has named renowned Moroccan-born American immunologist Moncef Slaoui to head a new COVID-19 vaccine program called Operation Warp Speed, which the US president compared to the Manhattan Project that developed the atomic bomb in the 1940s.
Slaoui, a former professor of immunology at the University of Mons, Belgium, predicted that Operation Warp Speed will make available a few hundred million doses of a COVID-19 vaccine by the end of the year.
Trump said Slaoui will serve as the operation's chief scientist, assisted by a team that includes veteran army four-star Gen. Gus Perna as chief operating officer… Trump described Slaoui as "one of the most respected men in the world in the production and, really, on the formulation of vaccines."
Slaoui, who has published more than 100 scientific papers on the topic, and is a member of the International AIDS Vaccine Initiative's board of directors, joined Trump in announcing Operation Warp Speed.
"I've very recently seen early data from a clinical trial with a coronavirus vaccine," said Slaoui, who headed the global vaccines development program at GlaxoSmithKline from 2015 to 2017. "This data made me feel even more confident that we'll be able to deliver a few hundred million doses of vaccine by the end of 2020."