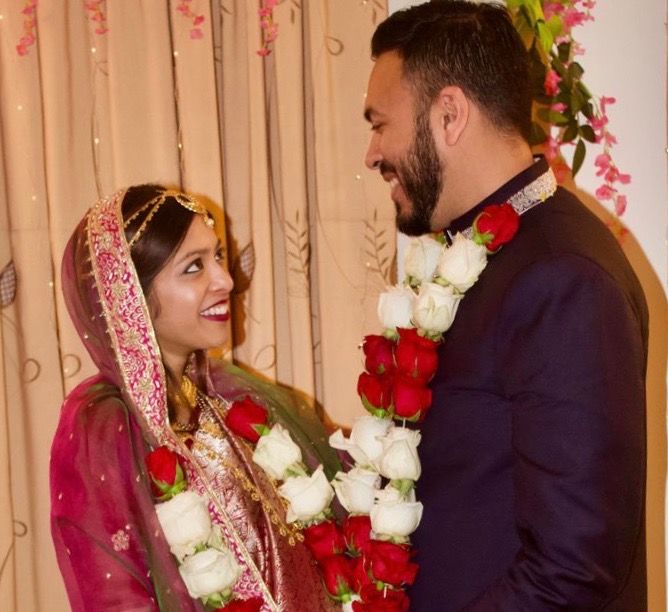 Unsha Bakker is a registered nurse who had plans to marry her fiance Farzan this summer when the Coronavirus pandemic disrupted their plans. So they decided to do the prudent thing and postponed their nuptials. But sitting on that decision made the couple reconsider. As Unsha writes, "Since my husband and I come from fairly traditional Muslim families, postponing our wedding meant postponing the start of our lives together."
In this op-ed for Huffington Post, Unsha Bakker shares her unique Zoom wedding story:
— … I was witnessing the heartaches that people close to me were going through in barely making ends meet, being laid off, not being able to afford mortgages and witnessing lifelong businesses being shut down. At work, I was seeing an increase in people having to discuss end-of-life care forms with seemingly prior healthy family members. I quickly realized the reality of my situation wasn't going to change anytime soon and I recognized that my heartache was a privileged one that I could quickly remedy.
— …I posed a question to Farzan. "Hey, why don't we just have a nikkah over Zoom?" A nikkah, the Islamic marriage, would solidify our partnership within the realms of our shared Islamic faith and to both our families. Traditionally, it would take place in a mosque and would require an Imam or Muslim officiant.
— And so we discussed our ideas to proceed over Zoom with our officiant on the legality of it, and we found that it was completely allowed and acceptable as long as we still had two witnesses. So Farzan and I would be on one screen together, our officiant would call in from his own to abide by social distancing rules, and then all of our loved ones would be witnesses.
— … we had to break it to our traditional Bengali and Pakistani parents. We had to explain the full concept of a video conferencing ceremony, essentially explaining not being able to invite anyone in person, even if they lived next door. This was an extremely difficult conversation to have as our parents didn't fully grasp the importance of social distancing yet and didn't want to personally offend anyone by not inviting them in person.
— On March 28, we made sure our technical issues were taken care of. We had our Wi-Fi and data networks triple-checked to ensure everything would go smoothly. Ultimately, everyone had successfully logged on and many people had even dressed up (from the bottom up, of course) in traditional clothing and in wedding attire. An emotional reunion across all generations unfolded, as Farzan and I exchanged our vows and became one. We had about 70 screens filled with two or more people each logged on to witness our wedding.
— What we thought would be a short 30-minute event turned into an hour and a half celebration with our loved ones. Everyone stayed long after the officiant proclaimed us husband and wife and we exchanged many loving conversations with those we hold close. Not wanting to let anything get in the way of our love made it that much easier to have an unconventional wedding. Of course I wish I could have hugged my family members, or taken traditional photos of the big day, but we'll still celebrate in person with everyone after the pandemic.