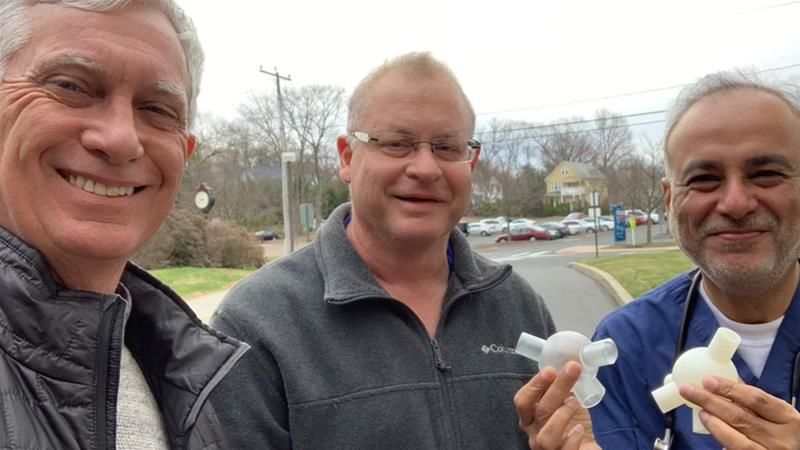 With an extraordinary body of work, as both a doctor and a politician, Dr. Saud Anwar keeps going in the battle against the Coronavirus. "I am just a doctor, who happens to be in [the] public and policy arena," says Dr Anwar, a pulmonary specialist. "I'm not a policymaker who's a doctor. It's the other way around."
Currently a State Senator of Connecticut, Dr. Anwar has won the praise and admiration from his community for his efforts in managing a scarce resource on the Covid-19 front — the ventilator. The doctor joined forces with InterPRO, a 3D printing and manufacturing company, and together they developed a 3D-printed splitter which increases the capacity of ventilators to treat as many as seven patients at the same time.
Dr. Anwar has shared information about the ventilator on his Facebook page, including a video demonstrating how the device works. The information is available for anyone to download. To date, over 100 countries, including Zimbabwe and South Africa, have downloaded the file.
"This battle has multiple fronts," says Dr Anwar. "How do you manage these patients? What can be done? So I'm helping educate the people at various levels about strategies to manage the disease as we learn more about it. Everybody is doing their part and I'm doing my little part to hopefully share my experience and in my effort and my passion to help people and fight for every single person to take it to the next level."
This passion has not gone unnoticed. Recently an "unsung hero parade" of cars drove past Dr. Anwar's home to thank the doctor for his honorable work. "Thank you for all your heroism," read a sign on one of the cars. People inside the cars were seen clapping and waving hands. The doctor was touched and wrote on his Facebook page: ""Thank you for all the people who came in today to surprise me. I am truly humbled and overwhelmed with the love that you have all shown. I feel blessed to be part of the community and also work with the finest group of health care workers that I love and respect."
Kevin Dyer, of InterPRO, is not surprised by all the love for the good doctor. "Without [Anwar's] willingness to get involved, without him being open to the [ventilator device] idea [it] would have gone absolutely nowhere."