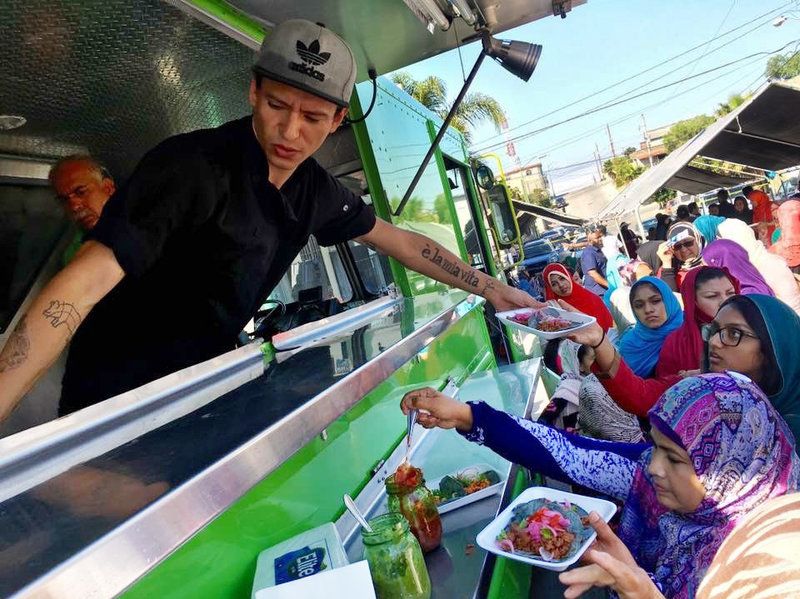 It's said that the connection between Middle Eastern and Mexican cuisines goes all the way back to the Moors. But in The OC, the connection is kept alive with #TacoTrucksAtEveryMosque. Founders Rida Hamida and Ben Vazquez had a simple goal which was to bring together the Latino-Muslim communities via great tasting, halal-certified… tacos!
The first #TacoTrucksAtEveryMosque happened last year, during Ramadan, at the Islamic Center of Santa Ana, a mosque comprised mainly of Cham, Cambodian and Vietnamese Muslims. Both Latinos and Muslims initially had concerns about the tacos, albeit for different reasons. Rida assured Muslims that the meats were fully halal, with no contamination. "We had halal markets cut it taco style and pre-marinate it, to ensure it was halal." Meanwhile, they also had to convince some Latinos who went to the event that "eating a halal taco doesn't make you Muslim. [People] thought they were compromising their own faith!"
But it all worked out in the end and the event drew more than 400 people. And by the second event, at the Islamic Society, more than 1,400 people attended. Since then, #TacoTrucksAtEveryMosque has traveled as far south as Baja California, in Mexico, and as far north as Sacramento. All told, Rida estimates they have served 7,300 people — and nearly 29,000 tacos.
Rida and Ben first met at a political rally in 2015, and realized they shared a passion for immigrant rights because of their families. Rida's family is Palestinian while Ben's parents are from Mexican state of Zacatecas. The professional partners say that Orange County is the perfect meeting ground for Muslims and Latinos as Latinos make up about a third of the county's 3.2 million residents, while an estimated 120,000 Muslims live there. "We're our neighbors, but we don't know one another," says Rida. "We go and fight for justice at protests and stand side by side, but we really don't know our stories." Which is why they started #TacoTrucksAtEveryMosque, to bring diverse people together via great tasting food!