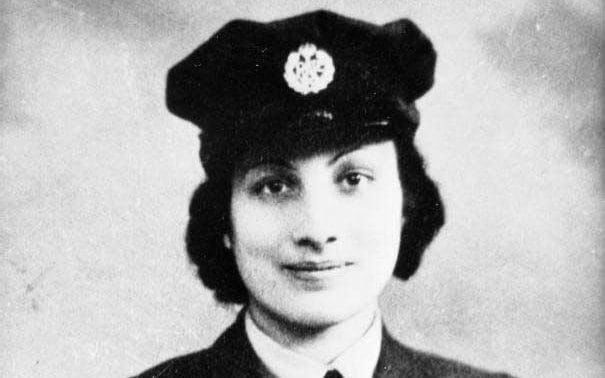 British politicians (such as Transport Minister Nusrat Ghani and Baroness Sayeeda Warsi) and historians are calling for the first British Muslim Second World War heroine, Noor Inayat Khan, to be the face of the £50 note.
As a Muslim Sufi pacifist, Noor Khan seemed an unlikely candidate to spy for Britain against the Nazis. But despite her quiet nature, she trained for the Women's Auxiliary Airforce and was later recruited as a secret agent for the Special Operations Executive (SOE). In 1943, she became the first female radio operator sent into Nazi-occupied France. She was betrayed by a French woman and tragically was killed by the SS at the Dachau concentration camp. In 1949, Ms. Khan was posthumously awarded the George Cross for bravery.
"The more you learn about her, the more you learn how brave and bold she was," says Transport Minister Nusrat Ghani. "Being able to do what she did with the limited resources they had would be remarkable. These are the things you don't ascribe to women especially not women in the WWII – it's important to recognize the achievements of women, this is really the year of the women. It's also interesting and important to note her faith, which drove her to make this ultimate sacrifice and serve her country."
The campaign to put Ms. Khan on the note was first started by activist Zehra Zaidi and backed by historian and BBC presenter Dan Snow, as well as Tom Tugendhat MP, Baroness Sayeeda Warsi and Transport Minister Nusrat Ghani. The Bank of England says it is up to public to nominate suitable people. Other contenders include Margaret Thatcher and Clement Attlee.
BBC Presenter Dan Snow remarks, "[Noor Khan] was the first radio operator dropped into occupied France during World War Two. She was captured by the Gestapo. She escaped. Was recaptured. Then she was tortured and never gave anyone up. She is a hero for our times."
For more on this remarkable woman, be sure to watch Enemy of the Reich: The Noor Inayat Khan Story, produced by our sister company, Unity Productions Foundation.