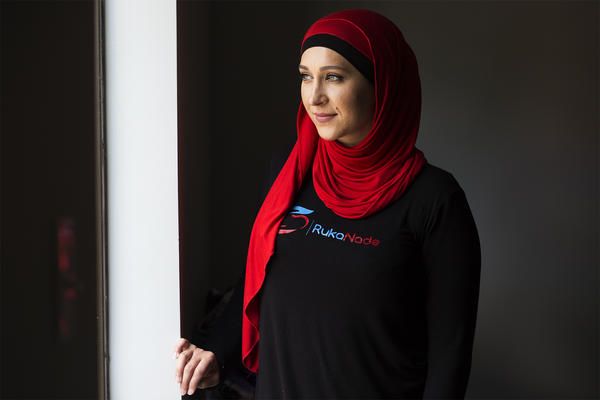 Nermana Huskić was a child during the Bosnian war and as a Muslim, she witnessed terror and violence at a young, impressionable age. After the war, her mother and brother were approved to relocate to the United States but sadly her father had to stay behind.
"When I first came, I had to deal with bullying. You don't know what to do when you're in a new country," she recalls. "You just have to be quiet at first and not express to anybody that you are being bullied. I just remember thinking, 'I just came from a war-torn country,' and I had enough of people trying to hurt me. I couldn't take it anymore, so I stood up to my bully, and then after that, there was no bully."
Now at 32, Ms. Huskić says she credits the city of St. Louis, where her family ultimately resettled, for extending its resources, and wants to return the favor. She recently founded a non-profit called RukaNade which assists the homeless population in both Bosnia and St Louis, Missouri.
Here are some snippets from a recent interview:
— "… in 2016, I was in Bosnia, and I did a project on my own, and the way it played out was exactly how I dreamt it a long time ago. So, to me, that was a sign from God that I needed to do something on a bigger scale. RukaNade means "hand of hope" in Bosnian, and it's a hope for a better tomorrow and hope that we're going to unite and we're going to work for a better future."
— "A lot of Muslim women are out there doing stuff for their communities. I haven't had backlash as far as from my community, but I've had people who are surprised that I'm breaking stereotypes that they had in their mind or what the media is telling them. But then on the other hand, you do have some men just like in any culture that are not used to it. But I do know that Bosnian women are out there, and we're doing things."
— "I'm getting ready to go on to do our big project in Bosnia. I will be working with families with kids who live in poverty, and most of my donations for this project come from here. In 2018, the company helped 4,256 people. We just opened a playground in Bosnia on July 9, and we are planning on doing one more. So, that will be the fifth one in total since the inception of the nonproft two and a half years ago. And we are always at Gateway 180 homeless shelter every last Saturday of the month."