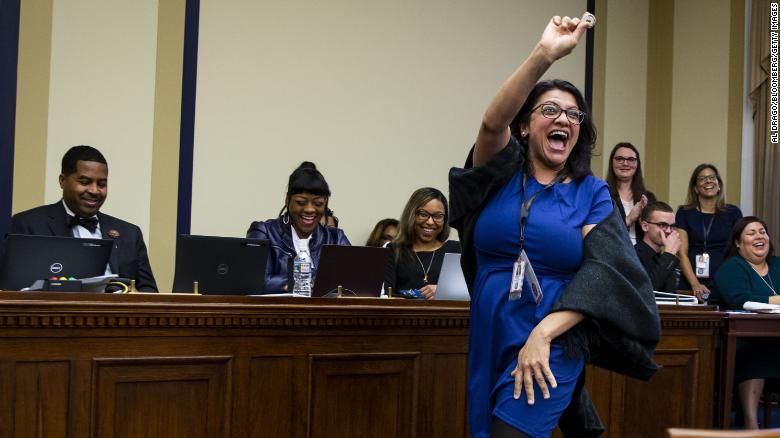 Excerpts from CNN story:
— Rashida Tlaib will make history as the first Palestinian-American woman to serve in Congress.
— Tlaib has said she will wear a Palestinian gown called a thobe for her swearing-in ceremony and wants to be sworn in on a Quran. The incoming congresswoman said that she has considered the possibility of using Thomas Jefferson's Quran or her own, calling the former President's Quran a "symbol," that "Islam has been part of American history for a long time." Tlaib said that people are "taken aback" when she tells them Jefferson had a Quran. "But I like that," she said, adding, "I like that it's kind of pushing against the stereotype that somehow we're new to this country."
— The 42-year old has had "first" status before. She is the first of 14 children born to Palestinian immigrant parents and the first in her family to graduate from high school as well as college. She was also the first Muslim woman to serve in the Michigan state legislature.
— The 2018 midterm elections led to an "incredible array of 'firsts,'" she added, pointing to the election of other women who made history like incoming Democratic Reps. Sharice Davids and Deb Haaland, who will be the first Native American women elected to Congress. Those victories created a sense of "hope," Tlaib said, "reminiscent of the America we want to live in." She and incoming Democratic Rep. Ilhan Omar of Minnesota will also be the first two Muslim women ever elected to Congress.
— The decision to wear the thobe, Tlaib said, "means the world" to her mother, who she said came to the United States when she was 20 years old. "Every child of immigrant parents knows what it means when … their biggest hope is that they want us to succeed, but they also don't want us to lose a part of who we are," she said.