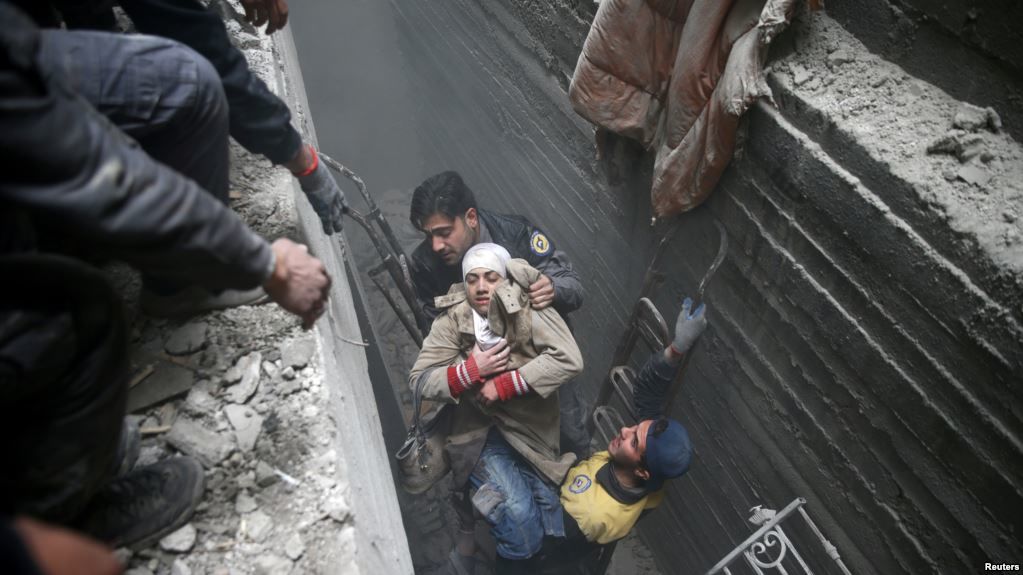 According to the Human Rights Watch, more than 400 people tragically lost their lives last week in Ghouta, Syria. Al Jazeera reports that ongoing attacks by Syrian government forces and their allies has created "hell on Earth" for civilians stuck in a rebel-held Damascus suburb as air strikes and ground operations continued despite a days-old ceasefire. Eastern Ghouta, about 15 kilometers from Damascus, is held by opposition fighters and has been under siege by Syrian government forces since the start of the war in 2013. More than 13 hospitals have been hit in the recent bombardments
In a "Twitter Storm" on Friday, hundreds of online messages were posted, including pictures of dead children, in a desperate plea to bring awareness to the horrors they were experiencing. Activists say that if the assault on Ghouta continues, it could be the beginning of a devastating new chapter in Syria's 7-year-old civil war.
Here are some of the harrowing Tweets from over the weekend (per Voice of America):
— "I'm in the center of the city," said Mahmoud Bwedany, a 20-year-old activist and student in Ghouta, speaking on a Whatsapp call Friday evening from the basement of the building he used to live in. "I'm not near the front line but two days ago a mortar hit 3 meters away from our building."
— "For God's sake help us!" reads a message on Twitter attached to a video showing two small girls, bleeding and crying in a smoky house.
— "What are you doing for Ghouta except observing the Genocide?" This was the caption to a series of photographs depicting individual world leaders juxtaposed to photographs of the carnage from the Syrian war.
— "They are literally targeting everything that moves," says Adnan Hadad, a Syrian media activist. "There is no shortage of news, videos and still photos. But people feel that the world is just sitting there, watching them dying."