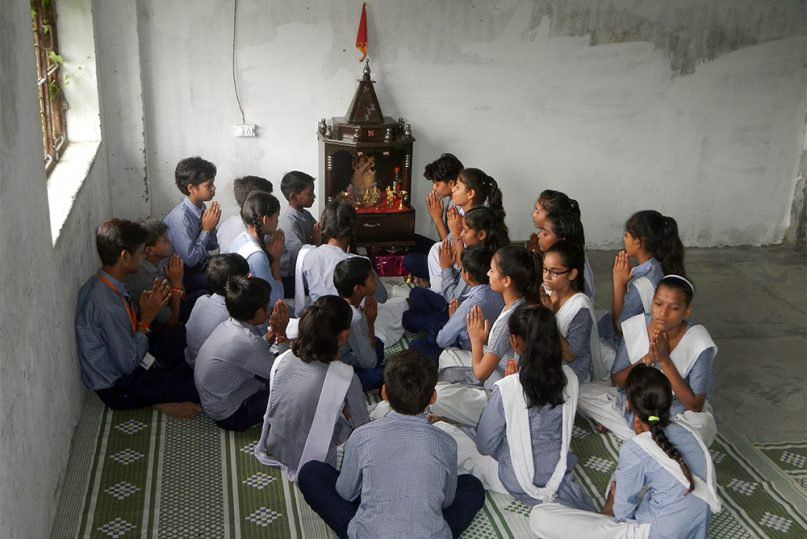 "In this school we are taught that Hindus and Muslims can study, pray and eat together without fear or discrimination," says Mahanand. "This is where we break all barriers on grounds of faith."
Ten-year-old Mahanand is talking about the Chacha Nehru School located in Aligarh, India. Founded 19 years ago by Salma Ansari (wife of India's recently retired vice president, Hamid Ansari), the school's mission is to educate underprivileged children of the Islam and Hindu faith (the two faiths are often in conflict).
Through the years, Ms. Ansari has received support from civil society groups and local leaders but has also received criticism from those who believe that education should not be segregated by faith.
Undeterred by the critics, the school has recently built a prayer room where the students not only learn about each other's faiths but also pray together. The school's principal, Rashid Ali, says that while this is a "bold step" at a time when the political climate in Aligarh is highly polarized, he makes it clear that the prayer room has a point. "We want our children to aspire for a more equal world."
Ms. Ansari, an observant Muslim, says she first got the idea for the school while visiting villages around Aligarh. "Seeing all the poverty, I got a spiritual calling to go deeper. I wanted to work in the slums and provide free education to boys and girls across different religious traditions."
Her goal is clear — for secular education which will preserve an India where Muslims welcome Hindus and vice versa. "Inclusion of all doesn't go against the tenets of Islam. It's important to preserve the secular ethos of India to prevent communal flare-ups."