As Immigration moves to the forefront of US Policy and National Security, we are glad to present this second interview in the series, with one of the youngest women appointed to the Federal bench as a US Immigration Judge, Ashley Tabaddor. Also an Iranian-American, Ashley has presided over one of the busiest courts in the nation since 2005.
For your convenience, we've broken the footage into four short videos, listed below. Part One: Immigration from Iran to the US, Part Two: Family and Culture, Part Three: Working in Immigration Law, and Part Four: Immigration Law, Challenges and Considerations.
We hope you will find this timely, in light of the recent Department of Homeland Security directive, Deferred Action for Childhood Arrivals (DACA). You can find documents on that action issued from US Customs and Immigration Service in our Resources and Data / Related Data.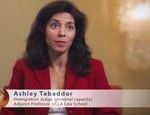 Judge Tabaddor discusses life in Iran, before and after the revolution, and the ordeal her family endured coming to the United States.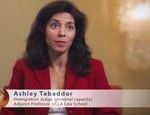 With two grandmothers that have made very different choices about how they live their lives and how they practice Islam, Ashley reflects on the influence these two remarkable women had on her outlook today.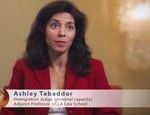 Hear Judge Tabaddor's thoughts on Immigration Law and why she is drawn to it.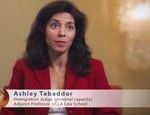 Immigration Law has changed drastically in the last twelve years. Now that it is tied so closely to National Security, we asked Judge Tabaddor to comment on the changes and challenges judges face in the courts today.