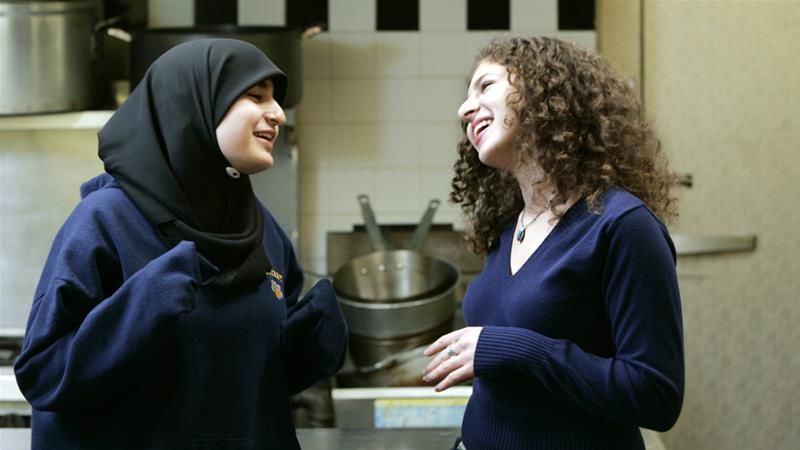 As Islamophobia and anti-Semitism have risen since the election, universities are starting to hold more interfaith events to bring people together, and take on these dangerous sentiments and stereotypes. Take Harvard, where an "unofficial collection of students" has recently formed a Muslim-Jewish alliance on campus.
In this op-ed for the Harvard Political Review, students Amitai Aouzzaglo and Bushra Hamid write that the "American Muslim and Jewish communities have responded to recent acts of profanity with a sacred togetherness, supporting one another in the face of egregious acts of discrimination and hatred." The central goal is to "forge lasting bonds between these two communities and between individuals within them. Over two semesters, we learned firsthand that interfaith interactions cultivate friendship and palpable support across tradition backgrounds."
Sahar Omar is a member of the Harvard Islamic Society and says lastly friendships have been made from these events. "They're names with faces now, people on the street you smile at—they are your friends who are supporting you." Ilan Goldberg is a member of Hillel and says, "[I'm involved in the alliance] because I have a lot of friends who are Muslim and I know they are going through difficult times in the U.S."
Recently Hillel partnered with the Harvard Islamic Society to host a "Combating Islamophobia" seminar where Muslim students shared personal experiences of being targeted by Islamophobia, and Jewish community members spoke of a "moral conscription" to stand up against anti-Muslim bigotry.
Members of the Jewish community have also attended Jummah, a congressional prayer service held every Friday. Muslim students responded in kind and attended Shabbat dinner at Hillel. "Having a Jewish contingency at Jumah prayer [after the election] meant a lot to us, and it came from this group that people would not have expected," says Sahar Omar. For Amanda Jowell, a member of Hillel, the Shabbat dinner "was one of the best Shabbat dinners" she experienced at Harvard. "It was so beautiful that we shared this moment together because for me that's what college (and being American) should be all about."